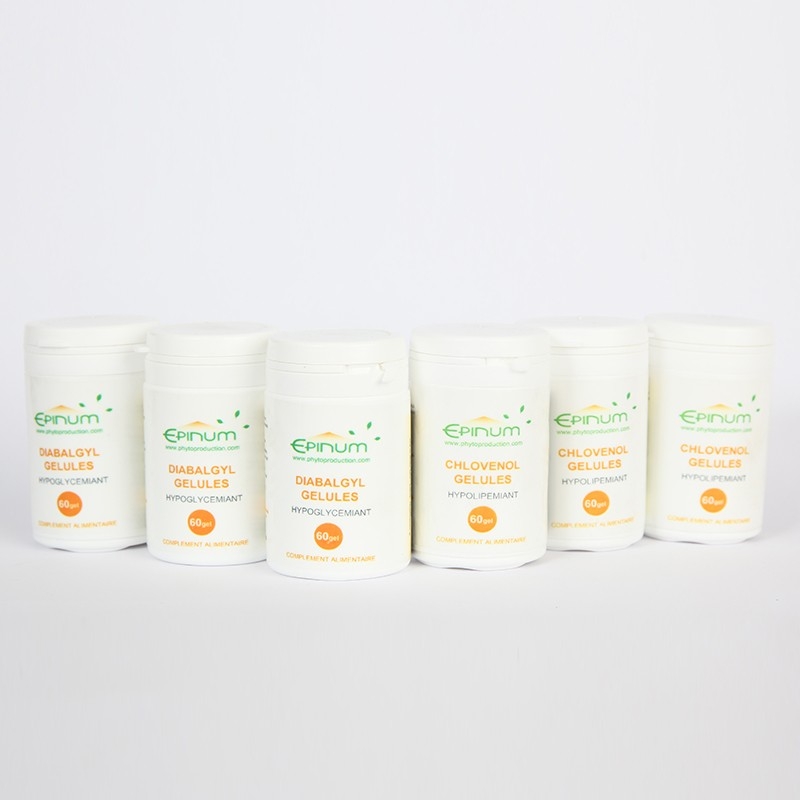  
Package Cholesterol-Diabetes
Duet against cholesterol & diabetes
A package for a try, it's the minimum we can do for your diabetes and cholesterol.

A package at a very attractive price, delivery is offered.
Dosage :
Conditionnement : 60 capsules of 325mg or package of 300 capsules
Description
A double help: Chlovenol + Diabalgyl for your safety and wellbeing…
Double action :
Drain with sugar transformation and drain with fat transformation.
It's reassuring that a drainage ensures regenerative effect on liver in addition to reducing carbohydrates and tryglicerids.
Chlovénol

FOR HYPERCHOLESTEROLEMIA OF EVERY DAY. Your cholesterol needs help.

Diabalgyl

EVERY DAY, HYPOGLYCEMIC PLANTS HELP YOU. Finally a big help in this problem of diabetes "type 2" with an effective hypoglycemic system.
3+3 boxes for an anti-sugar and anti-lipidemic treatment to try.
Ingrédients
Chlovenol
Chrysantellum americanum
lespedeza capitata
Diabalgyl
Arctium majus
gymnema sylvestris.
Précisions
An hypolipemiant and an hypoglycemiant to help you for these 2 pathologies.

It is a dietary supplement that cannot be used as a subtitute for meal.
Mode d'emploi
3 capsules of each taken in four times for the first 2-3 weeks or when the result is signifiant. For the maintenance period: 2 capsules in the morning, 2 capsules in the afternoon and 2 capsules in the evening.
Don't exceed the daily dose
Keep away from children reach