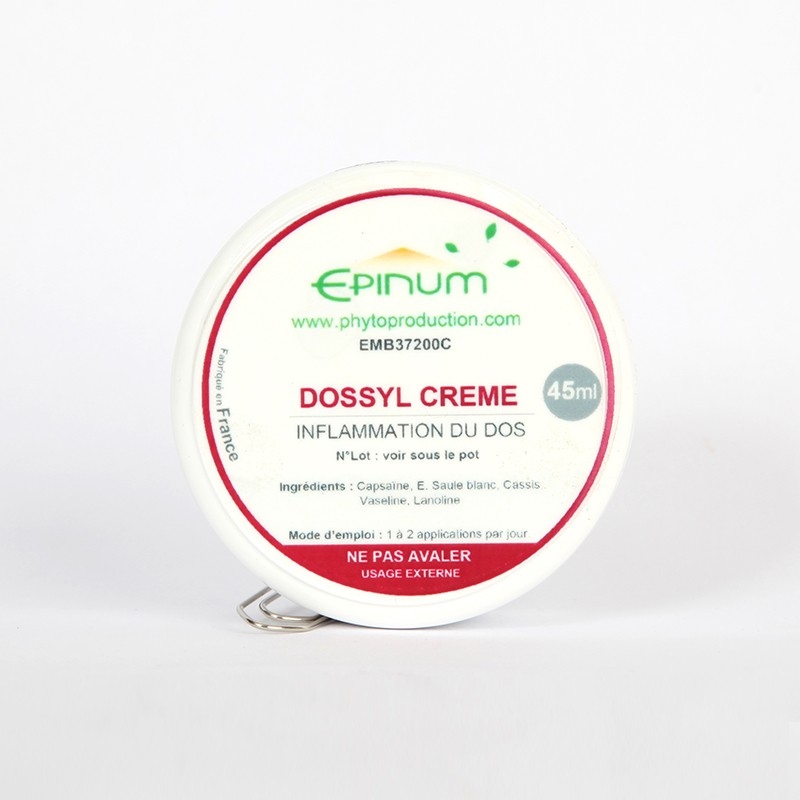  
DOSSYL
Back pain
Get rid of your back pain without a pill and in a natural way.
Dossyl Cream is a resolutive application designed to improve back pain.
1 to 3 massages a day to remove back pain usually located at the lumbar level: low back pain.
Description
Dossyl, an herbal cream to treat low back pain
Dossyl is designed to immediately reduce or even eliminate back pain.
A natural treatment of low back pain formulated from selected plants whose assets ensure the back muscles relaxation.
Capsaessin, white willow and blackcurrant are 3 recognized plants to effectively relieve joint and lumbar pain by local warm application.
Product designed, developed and manufactured in France.
Apply the cream on the painful area; do 1 to 3 massages (the cream heats) a day, for 2 to 3 minutes.
Dossyl relaxes the treated part leaving a delay effect allowing an extension of the massage for several hours.
The massages help to sleep better and to calm the irritations due to the throbbing back pains.
Above all do not stop your activities even if you are in pain, continue but gently. Strict bed rest should be avoided so that muscles and joints do not weaken and low back pain becomes chronic.
When you feel better, if problems reappear, consult your doctor and continue using the cream.
Do not hesitate to do slow exercises of stretching, to consult doctor or physiotherapist, to check the state of the mattress. Taking care of yourself is important, but you also have to go slower, and 36-72 hours are often necessary to rest.
It is important to avoid sudden movements and to rest your back while lying on your side.
Always try a small area of ​​skin before treating widely.
Do not exceed the recommended daily dose.
Products must be kept out of the reach of children.
Don't exceed the daily dose
Keep away from children reach