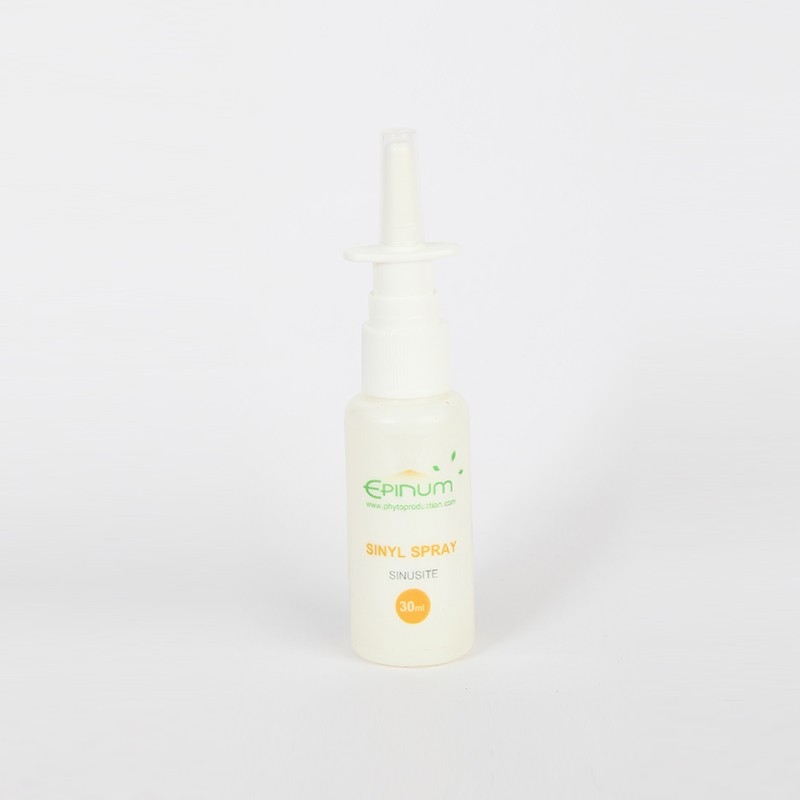  
Sinyl
Sinusitis
RELIEVE YOUR SINUSITY NATURALLY
With the help of active medicinal plants Sinyl gets rid of your sinusitis naturally.
The comfort of breathing comes back and the lancinating pains disappear.
Dosage : 2 to 5 sprays per day
Conditionnement : Spray of 30 ml
Description
Sinusitis a 100% natural treatment.
Using plants to treat sinusitis is not new. Our elders already used them to relieve pain and congestion.
Sinyl, a concentrate of natural ingredients perfectly dosed to rid you of the inconvenience of your sinusitis.
Promptly managing sinusitis helps prevent complications and recurrences.
Our research has confirmed the Synil product, an herbal treatment to effectively treat sinusitis. An exclusive formula signed Epinum.
The active ingredients contained in Sinyl ensure the evacuation of the nasal secretions which clog the sinuses and their disinfection.
Thanks to the synergy of the plants that compose it, Synil, a 100% natural, safe and effective product for the treatment of sinusitis:
Antiseptic: due to the action of the Scots pine known for its respiratory virtues. This plant has the property of thinning the mucus which will then be easier to evacuate.
Decongestant: eucalyptus globulus helps the decongestion of the mucous membranes.
Antispasmodic: with lavender that will reduce facial pain and provide almost immediate relief.
Antiviral and anti-infectious: the action of cypress particularly recommended in the respiratory affections as it limits and
avoids superinfection.
Effective for treating both acute and chronic sinusitis.
Always try a small area of ​​skin before treating widely.
Do not exceed the recommended daily dose.
Customer reviews
Reviews about this product

Show attestation
Ingrédients
Scots pine
Eucalyptus globulus
Lavender
Cypress ext
Sunflower oil
Mode d'emploi
Don't exceed the daily dose
Keep away from children reach