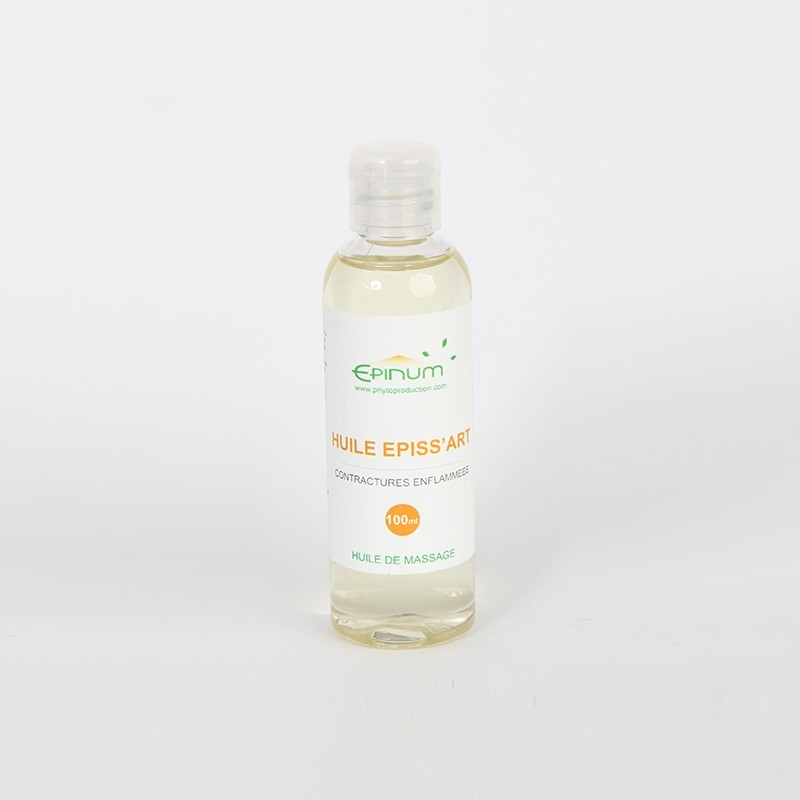  
Episs'art Oil
Relieves back pains and knee pains
For the back and knees a strong antalgic product, the joints are relieved
For completely enjoyable muscle relief.
Components for painful joints such as knees, kidneys which are the two most sensitive areas in the joint system..
Inflamed contractures, low back pain.


Dosage : 1 to 3 daily applications
Conditionnement : Bottle of 100ml
Description
The answer of Episs'art, oil for joint massage,
The knees and the back, provide different pains, but they are associated by the way to relieve them.
Product designed, manufactured and made in France.
Anti-inflammatory and analgesic plants (soothe the pain) have a great place to help joints, they allow spectacular results, they warm up effectively.
Low back pain, a very different situation:
Low back pain or frequent back pain is hard to define: contracture or blockage or simply permanent pain?
Your lifestyle, should be directed towards a reduction of the physical efforts, as much as possible, but that does not prevent to have a regular activity of leisure to maintain healthy musculation.
Overweight causes a change in the spinal curvature, having the belly, the back arches in a different way compared to its original position. Eppiss'art will give the solution.
The duration of massages can range from a few days to a few weeks.
Relieve your back pain, have rest, drink a lot of water. Massage  these areas to end up and calm these painful contractures.

The knee an important articulation:
The knee is a bearing joint. The ends are covered with cartilage, a soft layer called the tire of the joint.
In case of irritation, the joint secretes larger amounts of synovial fluid and causes significant swelling and discomfort of the knee.
It is often a temporary problem, but it deserves to be taken seriously, because neglected, it will become a normal way, a chronic pathology.


The massages can last from one to three weeks.

The results obtained with Episs'art oil are quite unique, fast and safe.
Ingrédients
Sesamum indicum seed oil
pinus sylvestris
lavandula angustifolia
he wintergreen
thymus serpylum
pinus pinaster
linalol
limonene, eugenol
Précisions
Episs'art acts against lower back and knees,  joints, fingers and hands; its inflammatory qualities help by warming the treated part while providing an appreciated comfort
Keep the product out of the reach of  children

Mode d'emploi
Massage the aching joints twice a day.
Don't exceed the daily dose
Keep away from children reach