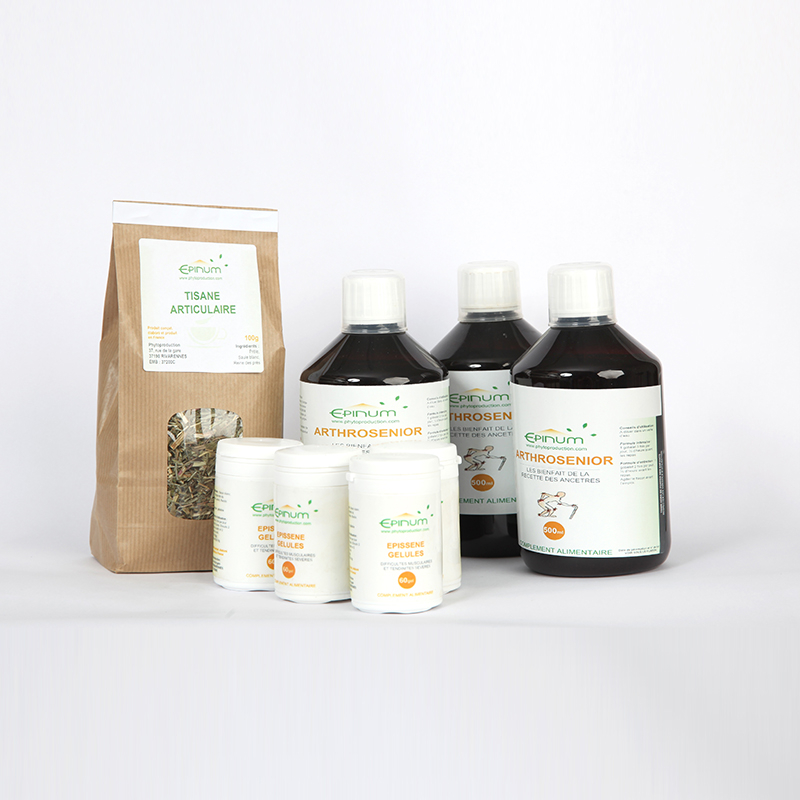  
Package Osteoarthritis
The essentials to fight Osteoarthritis
We should call it no worry package, after the treatment, you'll find comfort.
The package provides an actual comfort for those who suffer from Osteoarthritis.
A complete treatment of Arthrosenior 3 bottles
A complete treatment of Epissene capsules 4 pill boxes
Joints Herbal tea
The whole at a very special price.
Dosage :
Description
Arthrosenior : For osteoarthrisis and arthritis. Arthrosis of joints (hands, fingers, knees)
Epissene capsules : Contractions - osteoarthrisis, arthritis, tendonitis.
Effective thanks to its soothing propetry on muscles and joints troubles .
4 boxes of 60 capsules
Joint Herbal tea : A selection of plants with anti-inflammatory and remineralizing property that provides the necessary comfort.
For this very complete package: 121.90€ shipping is included...
Précisions
For this very complete package, we needed results, so a treatment of 3 bottles of Arthrosenior, 4 pill boxes of Epissene capsules during and after the treatment with Arthrosenior and the Herbal tea for a delicate and delicious moment.
Don't exceed the daily dose
Keep away from children reach