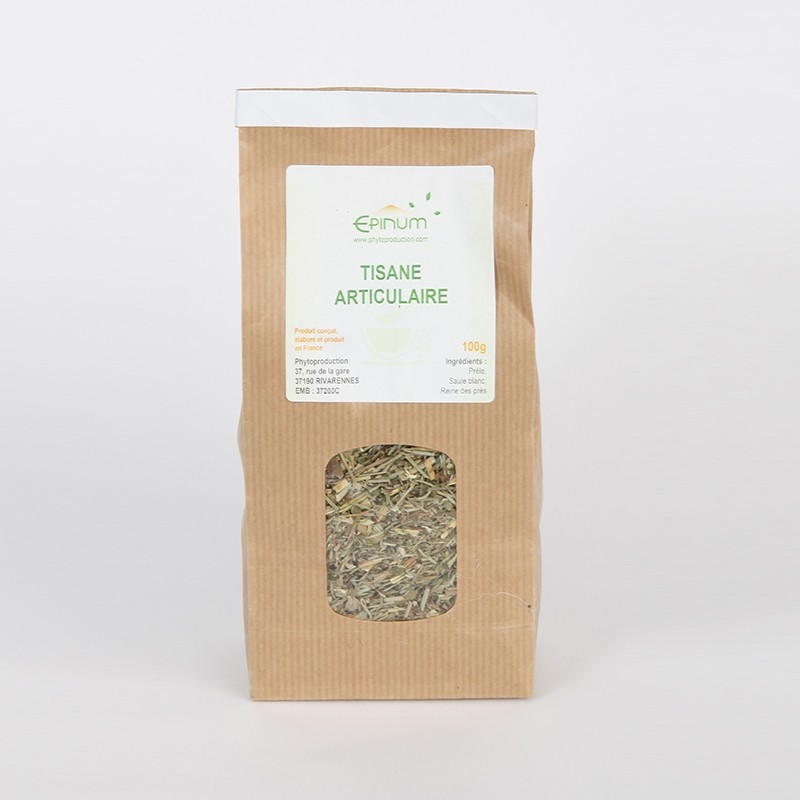  
Joint herbal tea
Herbal tea for joints
The good plants that help for muscle comfort.
The selected plants with analgesic and remineralizing property will bring you muscle comfort . You will quickly feel the benefit of horsetail, meadowsweet and willow for its effect on rhumatism and febril pain.
Effective result.
Dosage : 1/2 teaspoon per cup
Conditionnement : Kraft bag of 100 g.
Description
Relieve the joints with herbal medicine
An herbal tea that combines utility and pleasure.
It will provide a comforting effect that will enable relaxation and improvement of joint comfort.
Reassuring and effective.
Our teas already have the good taste but can be softened with honey.
Product designed and manufactured in France.
Everyone has his dosage, that's why it is not available in pounch packs, nevertheless, be careful of overdose: 1 pinch per cup is a good dose.
The tea is composed of pieces of plant of many sizes; not only it is normal but it's especially reassuring.
Customer reviews
Reviews about this product

Show attestation
Je commence juste....il faut voir sur la longueur !
Ingrédients
Horsetail
White willow
Meadowsweet
Précisions
Joint herbal tea helps for temporary or permanent complications and enables you to have comfortable night.
Mode d'emploi
There are two ways to take Joint herbal tea:
1/ Cover and leave to infuse 10-12 mn; let the plants express (press to release the active ingredients) at the end of the infusion.

2/ Or, prepare it at the evening (2 spoon per liter) cover and leave it all night long. Filter the next day and drink hot or cold, sweeten or not.
Don't exceed the daily dose
Keep away from children reach