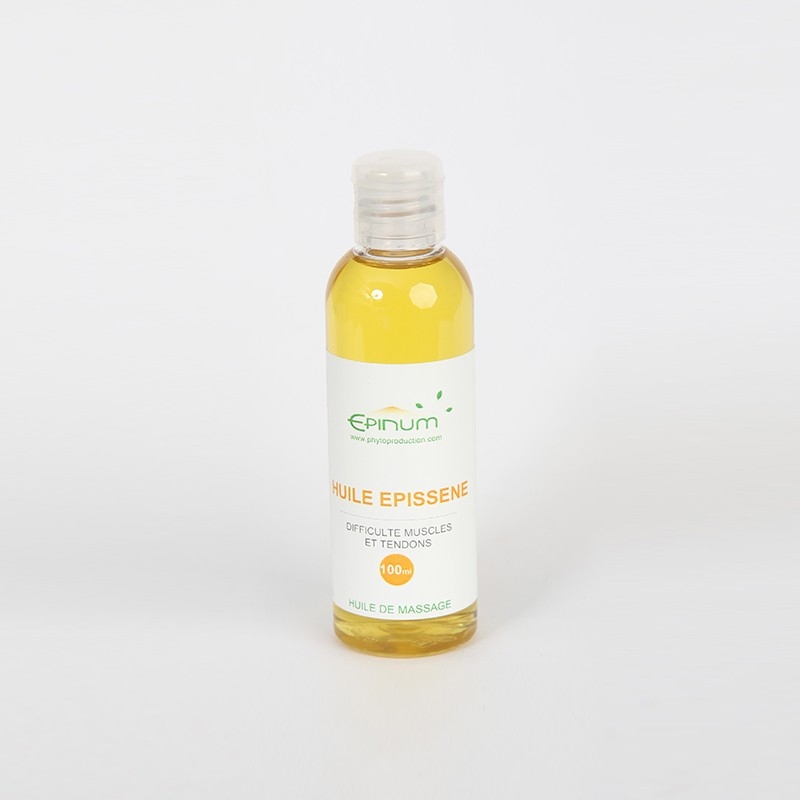  
Mussyl oil
Relief for muscle strain and tear
An oil for sportmen, to relieve strain, tear, periostitis, safe and efficient. Symphytum and Calendula, an oil for muscle strain and tear. The muscle is a connective tissue highly vascularised and filled with nerves, research and development were complicated.
It has also been proved to be effective to treat coccyx pain and anal fissure.
Dosage : 1 to 2 massages a day
Conditionnement : 100 ml
Description
Symphytum and Calendula to relieve strain and tear.
At the beginning, this oil was designed for professional sportmen ; but they have found other use for it as: periositis and Coccyx or anal fissure that can benefit from Mussyl oil.
Product designed and manfactured in France.
A missed warm up and violent move or sudden directional change produce unusual contractions and even strains provoking break of the muscle fibres that at the same time causes oedema and hematoma.
Sometimes, it is just a micro-tear, but it should be taken very seriously.

Any supposed tear should be subject to a visit to a doctor.

The first reflex is to put as soon as possible a compress of ice wrapped in a towel on the painful area.

After eight days, (before this period, massages are very painful), sesam oil synergized with lavandula has this penetrating quality to breech the skin barrier to bring comfort and wellbeing; lavandula latifolia also have in depth internal healing effect. Sesame oil, by going through the bone mass, act on hematoma.
Mussyl oil is also efficient on intercostal tears on breast, lung, ribs, shoulder, biceps, thigh or calf; it is a complete product designed for the sportmen problems.

periosterum is also complicated and leads to tibial fatigue with well localised pain that looks like a burning sensation; Mussyl oil provides a precious help. This trouble is well known for runners. For this tibia inflammation , rather periosteum inflammation , sportmen should all know the Mussyl oil for the comfort it provides.
Appart from its benefit on deep wound healing for strain or tears and periostis, let's not forget the coccyx that in case of fall or sport injury, may be very painful. Mussyl oil also helps the painful coccyx and anal fissures .

Achillea wil be appreciated for it anti-spasmodic property that reduces contractions and anti-oedema needs will be covered by the marigold and sesam oil that add the necessary healing effect; finally, symphytum consolidates the contusion and the scar.

Mussyl oil should be applied gently in the skin 2 times a day; its well-balanced compounds provide this fast, softening and soothing effect.
The macerates and essential oils inside Mussyl oil are designed to easily penetrate the skin .

You can use Mussyl oil along with analgesic and anti-inflammatory medicines but they may reduce its active ingredients' effects.
Ingrédients
Sesame indicum oil
Symphytum consolida
Calendula officinalis
Lavandula latifolia
Achillea millefolium


Precisions : Mussyl oil helps in case of muscle tear or strain.
Instructions for use : 
Try to massage 2 times a day even if the few first days massages are painful.


Always test a bit of the product before using it all over.
Not exceed the recommended daily dose.
Products should be stored out of the reach of children.
Don't exceed the daily dose
Keep away from children reach