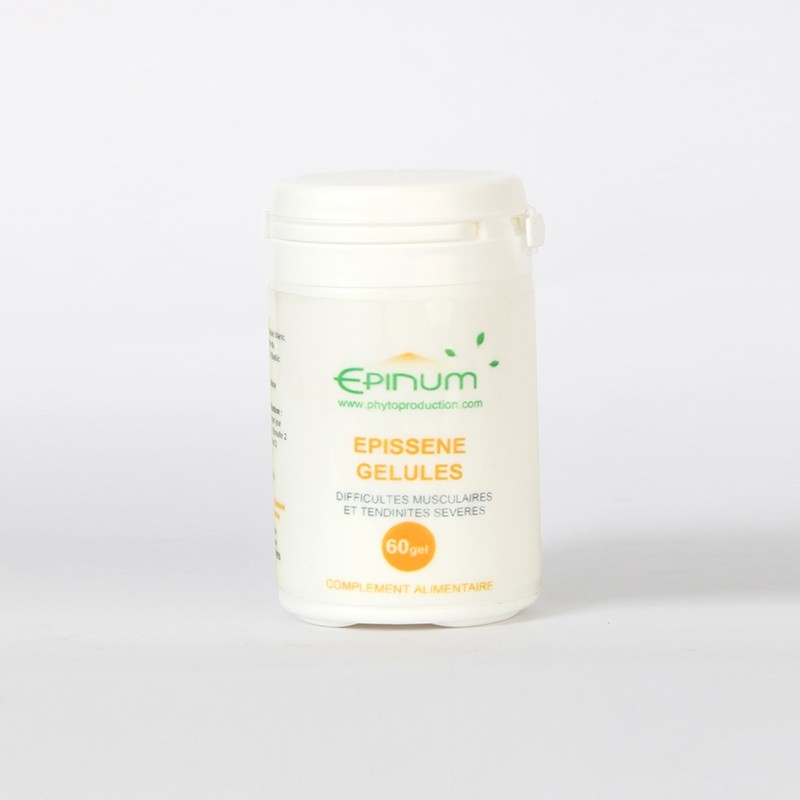  
Epissene capsule
Fight against muscle contracture and numbness
With their relaxing property, Epissene capsule is suitable for everyday life.
Any contractions of back or knee and torticollis : Epissene capsules - relaxing property for contractions, tendonites, excellent result on muscle troubles.
Dosage : 2 to 6 capsules a day
Conditionnement : 60 capsules of 390 mg
Description
The willow and fleabane comfort the arthritis, contractures of the back and torticollis.
The willow and fleeban known for their soothing property , thanks to their analgesic effect : arthritis, dental arthritis, joint rhumatisms , muscle contractures and torticollis.
Product designed and manufactured in France.

theses active ingredients act on a discomfort that can be quickly settled by the willow and the fleabane but let's not forget the blackcurrant, nettle and basil.
Fingers, hands, muscles, joints, elbows, kidneys, knees, feet and all theses parts concerned by old age need the active ingredients inside Epissene capsule for their soothing property.

These active ingredients are well known for their analgesic and draining property, that enable them to act effectively on vague symptoms .
Whatever the causes of these contractures, the active ingredients of the Epissene act night and day and regular medication provides a natural and permanent repair; capsules should be taken two times a day; 2 capsules in the morning and 2 in the evening.

By protecting the muscle troubles due to everyday gestures, Epissene capsule becomes a necessity as it regenerate the flexibility at the very beginning of the treatment.
The limbs tired due to over-use, the back for example, are subject to important contraction that is painful; leaving it will worsen its state, nettle makes the muscles and limbs stronger.
Ingrédients
White willow
canada fleabane,
nettle
blackcurrent
basil
Précisions
Epissene capsule helps to treat muscle and tendon pains and can be taken on an ongoing basis over several months.

It is a dietary supplement that cannot be used as a subtitute for meal.
Mode d'emploi
3 capsules in 3 times the first day.
2 capsules in the morning and 2 in the evening



Don't exceed the daily dose
Keep away from children reach