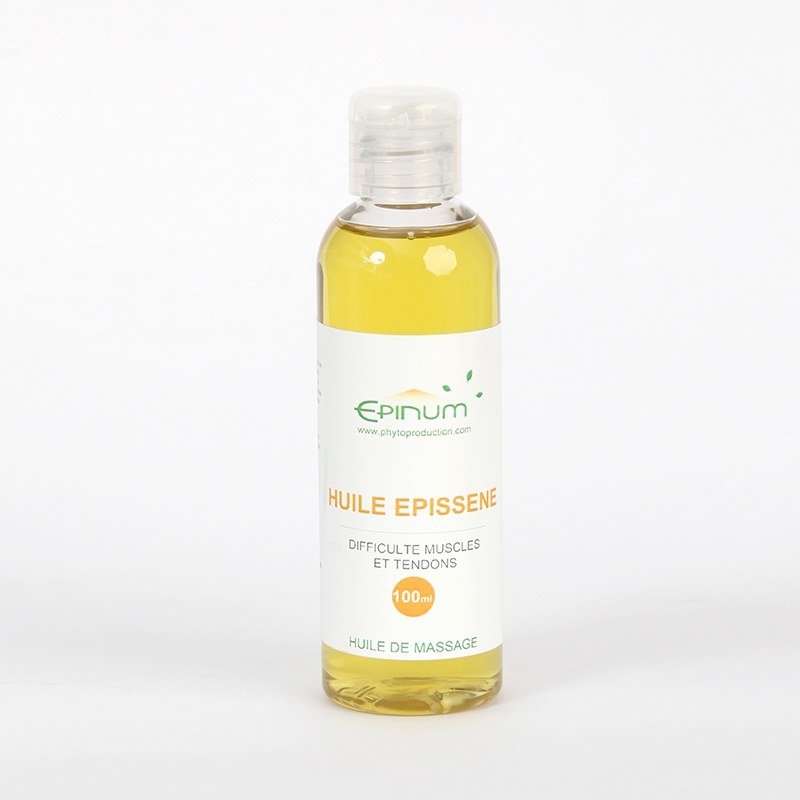  
Epissene oil
Relieves contractures & lumbagos
Designed for contractures, cramps, sciatic, cruralgia, even serious.
Epissene oil with its soothing property for all muscular contractures and tendinous.
Its anti inflammatory effect has a quick action on: cramps, and cruralgia, torticollis, sciatic and lumbagos.
Dosage : 1 to 3 applications per day
Conditionnement : 100 ml
Description
Juniperus communis, wintergreen, products from herbal medicine to massage muscles and joints.
Sciatic,
cramps, cruralgia, lumbago and torticollis

, are the strong points

of the

Epissene oil that owes its result to the perfect harmony of its ingredients.

Product designed and manufactured in France.

Epissene oil is used when the concerned area needs immediate comfort, often painful as we have waited too long; Epissene oil brings you a wellbeing with massages 3 times a day on the area; muscles will be relaxed quickly.

Joints and tendons : the neck, back and inner thick (sciatic, cruralgia) : all these parts that are concerned due to old age or over-use will be treated with the active ingredients of the Epissene oil.

Wintergreen and thymus serpyllum well known for their anti-inflammatory property are helped by sisamum indicum oil and rosmarinus officinalis that add comfort to contractures and rhumatisms, their relaxing property, draining and penetrating, allows a quick well-being, even if we 't know how we get hurt.

The active essential oils of the Epissene oil also treat the torticollis with prolonged and gently massage, completed by wearing a scarf.

The over used limbs, tired due to effort may be subject to muscle trouble that causes important contractions and cracking, leaving them as they are would make it worse; take the advantage of the Epissene oil that makes muscles and limbs stronger.

Whatever the cause of theses contractures, regular massage with Epissene oil acts as a natural repair. By protecting the everyday gestures, Epissene oil quickly becomes a necessity, as in addition to its relaxing property, it regenerates the softness and muscle relaxation from the very beginning, it is very effective in case of lumbagos for example.







Ingrédients
Sesamum indicum oil
he Wintergreen
he juniperus communis
He thymus serpyllum
He lavandulla burnatii
He Rosmarinus officinalis
benzyl alcool
citral
eugenol
gEraniol
citronnelol
Précisions
Epissene oil helps muscles and joints with its relaxing property.
Mode d'emploi
To make sure that your massage oil works, try to massage 2 times a day and everyday even if in the first few days you don't feel totally relieved.
Always test a bit of the product before using it all over.
Don't exceed the daily dose
Keep away from children reach