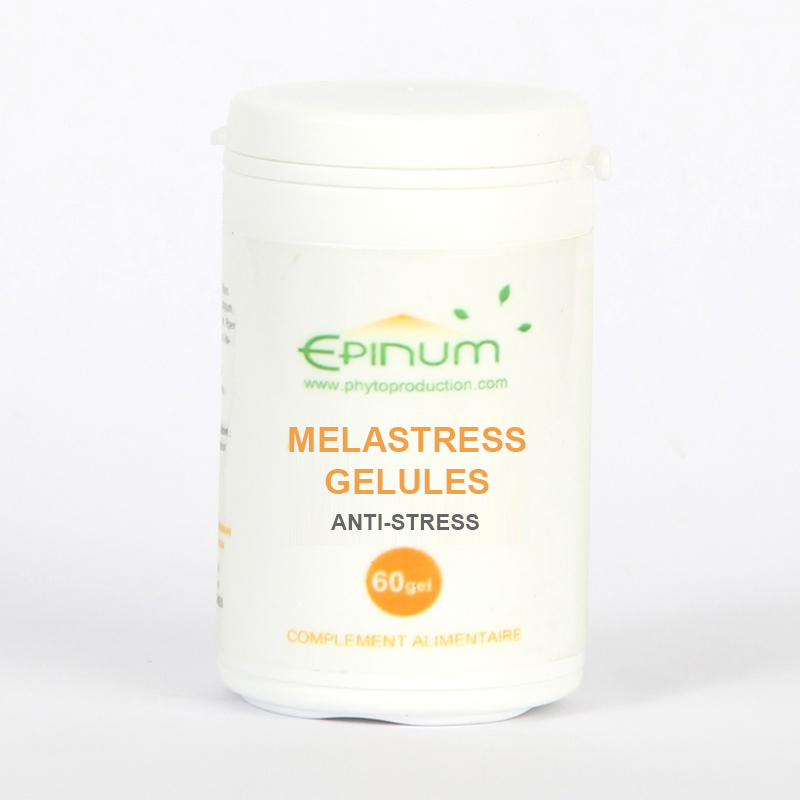  
Melastress capsules
Fight against stress
A new quality of life without stress.
Find a lifestyle comfort thanks to the plants.
Suitable for hyperactive children.
Synergy of the active ingredients inside Melastress will relaxe you and help you to sleep well.
Dosage : 1 to 2 capsules in the morning
Conditionnement : 60 capsules of 335 mg
Description
To sustain an anti-stress activity.
Stressed people can benefit from the active ingredients of Melastress.
2 capsules in the morning and you will feel relaxed all day long.
Product designed and manufactured in France.
Sometimes, in case of strong anxiety, take a capsule in the afternoon if necessary.
A treatment of a few weeks and you will find a good quality autonomy but it is efficient since the very beginning.
Hyperactivty of children is a form of stress, Melastress will helsp at the arte of one capsule in the morning from 8 y.o.
Melastress capsule is also available in the package anxiety-sleep.
Causes :
In case of brutal or scaring event, our body reacts and the heart rate modifies, cold sweat may appear. Due to emotion, you may feel a permanent unconscious fear; it will become an emotion difficult to repress.
Stress manifestations depends on individuals. There is three stages of the stress: heart beats faster, breathing becomes shallow and rapid, intellectual skills are stimulated; theses stages are well known.
You should avoid it
When stress persistes or becomes too important for the individual, it becomes a burnout. It is the maximal stage of the pathologic effect of stress.
Customer reviews
Reviews about this product

Show attestation
Enfin un produit qui me va bien
Ingrédients
Lemon balm
black horehound
trefoil.
Précisions
Melastress has an anti-stress effect; it is a safe and comfortable product. Melastress capsules seriously help the stressed people.
This is a dietary supplement and should not be used as a meal replacement.
Mode d'emploi
Stressed people may benefit from the active ingredients of Melastress by taking 2 capsules in the morning; it will relaxe them during the day.
Don't exceed the daily dose
Keep away from children reach