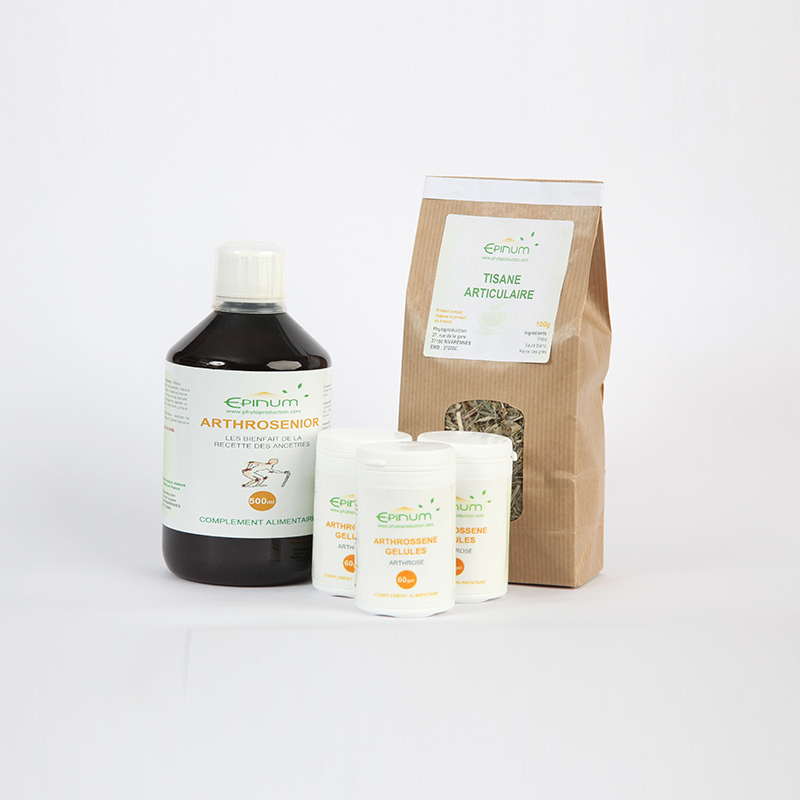  
Package Arthrossene
Package against osteoarthritis
A package that enables you to redo your activities as before.

One step forward for osteoarthritis problems, your whole body will be 'refreshed' and the cartilages that benefit from the slicicium will enable you to regain the softness of your moves.

Recognized results, regained wellbeing and comfort, designed for elderly to refresh their body. 
Dosage :
Conditionnement : 5 pill boxes of 60 capsules
Description
Osteoarthritis problems with persistant pain, and even violent, shall have an effective and safe means able to act on this pain.  

Anytime there is an inconvenience, it is a permanent pain, mecanic and even chronic.  

The treatment period lasts 1 to 9 mois depending on the state of the cartilage..

Equisitum arvense and Harpagophytum associated with ortica dioica and fraxinus excelsior provide a comfort, that over time will reach the maximum; osteoarthritis also needs silicum and active ingredients such as Erigeron, particularly suitable for this kind of problem.

A very low price so that everybody can benefit from it.
Don't exceed the daily dose
Keep away from children reach