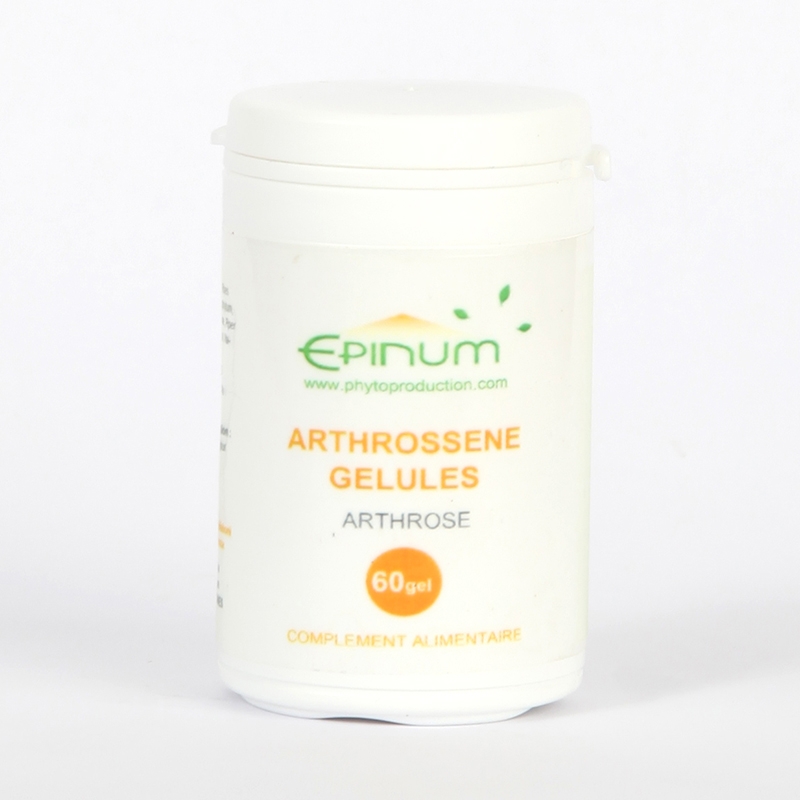  
Arthrossene Capsules
The solution against osteoarthritis of the elderly
The osteoarthritis of the elderly, a daily difficulty.
Act for a well being and a complete comfort.
Maintain its worn cartilages with a strong remineralization action; fight against the destructive action of cartilage. Arthrossene, the complement of osteoarthritis that helps.
By translating the friction of the bones between them, the pain of osteoarthritis exists.


Dosage : 2 to 6 capsules/day
Conditionnement : Pill box of 60 capsules of 390 mg
Description
Helping Osteoarthritis of the elderly
Arthrossene, considered to be a slow-acting anti-osteoarthritic
After 60 years: osteoarthritis of the knee (gonarthrosis)
What we can answer: comfort, slow reconstruction of cartilage
Product designed, manufactured and made in France.
The attacks of osteoarthritis correspond to a period of more or less rapid degradation of the cartilage:
Cartilage is a living tissue, its capacities to rebuid exist; but for the elderly, this moves towards a deficit more and more important on its capacity to remake the cartilage.
Arthrossene is probably one of the most reliable products having a real effect on comfort from the first use Arthrossene does not need advertising other than word of mouth, so do not hesitate, try.
Osteoarthritis, with cartilage wear and tear, is the degradation of the bony ends, the elastic and flexible layer that is this cartilage (called the tire of the joint).
Once damaged, this cartilage, reveals an osteoarthritis, you will then find yourself bone against bone.
The products of herbal medicine, such as ortica dicaica, equisitum and ribes nigrum, providing among others a fast comfort, are the ideal, that you can use without limit.
The siliceous equisitum is involved in the synthesis of glycosaminoglycans constituted by the connection between a protein and a carbohydrate which are important components of the connective tissues, support and filling tissues, of the body whose elasticity it maintains.
When the cartilage is worn out, the body remakes it; but this reconstruction is fragile and goes so much slow than it should, that if the bones rub against each other, this thin, tender and fragile layer will be torn.
Therefore, It must be rebuilt with "hardeners" and as soon as possible this smooth and flexible substance whose first quality will be to dampen friction, will be taken care by the synovial fluid.
It is better for knees to have an activity that stimulates cartilage for short periods of time and then sit for periods of rest, instead of trampling all day. By not doing much physical effort, however, you will make efforts, you will walk (knees) gently.
Product necessary for the reconstruction of the cartilages, the assimilable silicon of Arthrossène is : a sure value, undeniable, declared as such by seniors.
Arthrossene cures are always long, beneficial, but taking long time between 3 months and 3 years.
The time to rebuild its cartilage, to feel better and walk again without constraints or simply, no more pain in the knees and hands.
By taking these capsules, you will have the feeling after a period of 6 to 7 months, that the product no longer acts, that it is useless.. Wrong ! The silica and silicon contained in arthrossene, work silently and reform the cartilage film that no longer existed and it is precisely the time that will thicken this film to provide real comfort after a few months.
Our oldest consumers, having taking it continuously for more than 3 years; of course they start to feel really better..
Ingrédients
Ribes nigrum
Harpagophytum
equisetum arvense
Piper nigrum
Curcuma
Vitamin C
Précisions
Arthrossene capsules helps for cartilage readaptation and provides a great comfort during osteoarthritis period.
This is a dietary supplement and should not be used as a meal replacement.
Mode d'emploi
After the few first week where improvement is noticed, need to take for the following trimester o: 2 cap in the morning, 2 cap in the evening,

We will arrive at a general consumption of: 3 capsules in the morning in maintenance.

For all, the cure will be long, but it took a long time to wear the cartilage, so ... Some say it is a permanent treatment; but yes we are feeling good.
Don't exceed the daily dose
Keep away from children reach