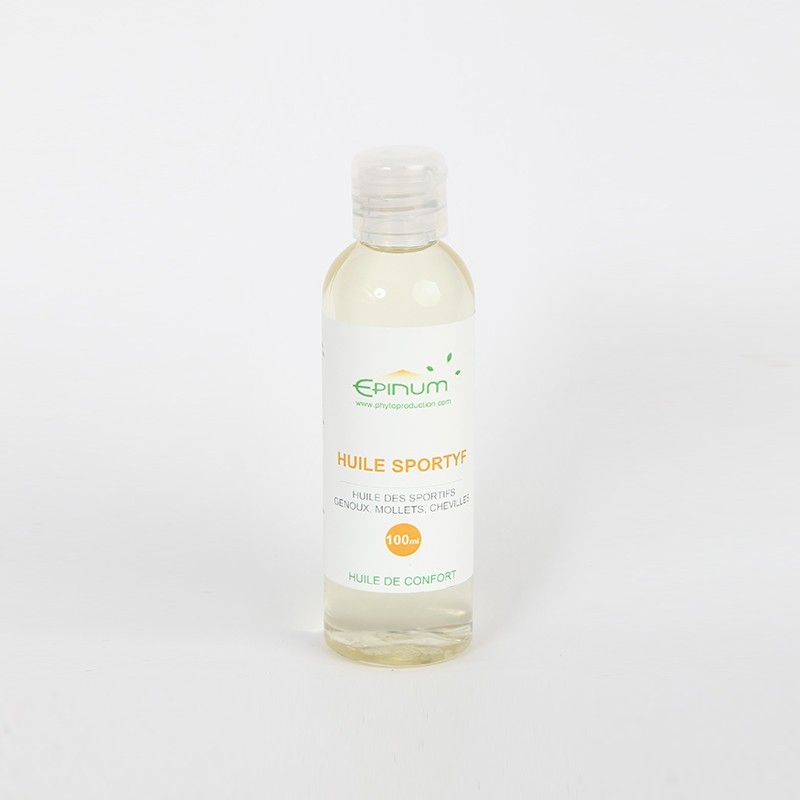  
Sportyf
Relieves muscles and joints
An oil for amateur sportman from the calves to the sole of the feet.
For knees, calves, ankles, it is an analgesic and interesting product; joints are relieved.
Improve and reduce the warm up when applied before physical effort.
After physical effort, it removes tiredness.
Dosage : 1 to 2 applications per day
Conditionnement : 1 bottle of 100ml
Description
A massage oil for the painful joints of the sportman.
End the pain in your knees, calves, ankles with this oil massage especially designed for the sportmen.
A missed warm-up and the joints are painful and swelling; the active ingredients inside Sportyf oil will help you.
Sportyf is the solution. Generally , a one-time massage is enough in case of physical effort ( cycling-walking-runing) but it can also be prolonged during a few days.
Sportyf is the answer, oil to comfort the amator who makes physical effort with no warm up of knee, calve and ankle.
The knees are important joints that need Sportyf oil; it provides a great comfort, its action is significant for the calves and ankles.
The result is unic, safe and fast.
Customer reviews
Reviews about this product

Show attestation
Ingrédients
Sesamum indicum seed oil
he wintergreen
he therebentine
linalol
limonène
eugenol
Précisions
Sportyf helps knees, calves and ankles problems.
Always test a bit of the product before using it all over.
Mode d'emploi
Massage 1 to 2 times per day: either before the physical effort, or after it to soothen the muscles. 
Don't exceed the daily dose
Keep away from children reach