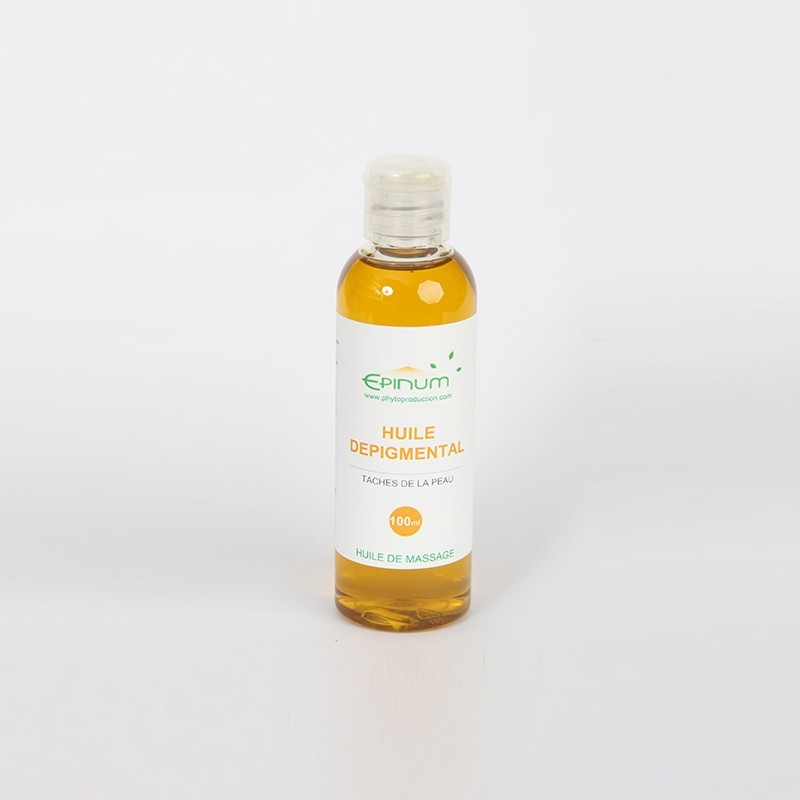  
Depigmental oil
Fight against age spots
To reduce skin spots due to excess of melanin.
In advancing in age, brown spots (age spots) more or less appear.

They are often on the back of the hands and forearms, the face, the neck, the décolleté

Remove the embarrassing wrinkles.
Dosage : 1 to 2 applications per day
Conditionnement : 100 ml
Description
Age spots usually appear from age 50, sometimes earlier.
Also called "lentigos", age spots are mainly due to too much sun. Indeed, repeated exposure disrupts the cellular functioning of the skin.
Melanin, in the begining of pigmentation, is produced in too large quantities and disorganized, resulting in the appearance of light spots then brown on the surface of the epidermis.
One can imagine that, in a young lady it is even more difficult to live.
We can give a preventive message to avoid or mitigate them:
Avoid prolonged exposure to the sun as soon as the first spots appear.
Avoid exposure between 11am and 3pm in summer and wear hats and clothing for the outdoors (during sports, walks).
In summer, and in the spring from the first sunshine, protect the parts of the skin (hands, faces, décolleté ...) with a sun cream with a high index of protection.
Active ingredients can "dissolve" these pigments that cause the stains.
Pay attention to the sun! Treat yourself in the evening, during the day do not expose yourself: it is the UV that will then be responsible for the damage.
Our face, our hands, our neck, get old faster than our skin if they are exposed to the sun. It must be said that for other, the exposure is important and permanent: weather, water, friction, sun ...
Even if these spots are not serious, we still want to get rid of them.
Age spots are skin pigment changes which are totally benign.
They represent only an aesthetic problem for many.
There is no imperative medical reason for the elimination of age spots.

The formation of age spots:
Normally, melanin, the pigment produced by the body, is regularly distributed in the superficial layers of the epidermis. However, some factors cause brown pigment amounts in some areas,
People exposing themselves under the sun without protection will present these pigment spots from the age of 45.
Ingrédients
Mode d'emploi
2 to 3 times a day preferably in the evening, apply 1 to 2 drops on the spots, making it penetrate the skin.

The results can be noticed after about 3 weeks.

After treatment, it is recommended to protect your skin from the sun, so that the spots do not come back.

Recommended cure: 5 to 8 weeks.
Don't exceed the daily dose
Keep away from children reach