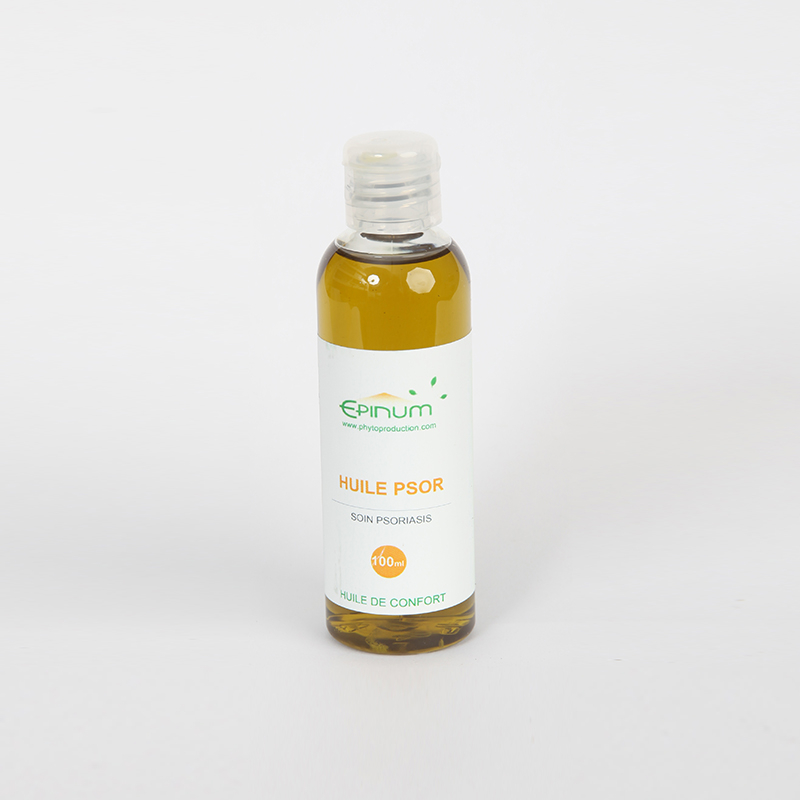  
Psor, the psoriatic oil
relieve the itching
Help your psoriasis, stop the itching.
We are not equal in front of the psoriasis, the results of the corticoids and in the severity of the affection.
To resist itching, you help. It is the role of the synergy of pelargonium with plantago major and oenothera biennis among others.
Spor oil is one of the most effective help in the field of psoriasis.
Dosage : 2 applications per day
Conditionnement : bottle of 100 ml
Description
Relieve psoriasis.
Stress is often responsible for psoriasis flares.
Product designed, manufactured and made in France.

Auto immune diseases, psoriasis which origin is still unclear.
It is the invasion of the epidermis, by an overactive inflammation resulting in redness of the skin with abundant skin flakes.
This disease does not distinguishes neither sex nor age and is developed very individually with remissions (often transient) during which the lesions disappear.
But the factors of psoriasis are many: psychological frustration, overwork, end up overweight, alcohol, friction on certain clothes and permanent scraping.
No curative treatment can completely cure psoriasis. Our skin is renewed thanks to the keratinocytes (cells that make up part of the epidermis).
When the skin is renewed too quickly, we speak of an epidermal hyperproliferation which generates hyperkeratosis called psoriasis and accompanied by desquamation.
Psor oil is a really made for psoriasis, It is designed to dry, but first: soothe itching before whitening psoriasis.
The appearance of the prosiatic plaques is really improved from the first week and in addition the absence of itching is within three weeks, the expected results are both spectacular and protective.
It is better to apply the few common sense rules related to psoriasis, such as: do not scratch, do not remove the plates, do not rub but stamp the area with a towel , it is necessary to resist the itching, and for that we need effective help.

Psor is an oil that has made it so famous that it is one of the most effective aids in the field of psoriasis; the active ingredients contained in the oil before drying the psoriasis: soothe the itching, we do not scratch anymore; let's not forget that this is the main source of psoriasis development.

It can sometimes be a question of psoriatic arthritis which is an inflammation producing the symptoms of arthritis in patients who are sensitive to psoriasis or who might develop it, Psor oil is suitable to help it.

We receive at least one letter of satisfaction every day.
Today, not one case of Psoriasis has resisted Psor.
Ingrédients
Sesamum indicum oil
Oenothera biennis oil
Pélargonium aspérum
Arctium Majus
Calendula extract
Hypericum perforatum
Plantago major
Précisions
Psor helps with itching and allows by its very precise composition, to rebuild damaged skin by drying them.
Always try a small area of skin before treating widely. Do not exceed the recommended daily dose.
Mode d'emploi
Apply 1 to 2 times a day (morning and evening) in moisturizing thin layers.

Proceed as all the oils, apply by dabbing the areas gently. Allow to dry a few minutes or in some cases or areas, gently pat to wipe with a towel or cotton.
In order for your massage oil to do a better job, try to massage twice a day and every day.
Don't exceed the daily dose
Keep away from children reach