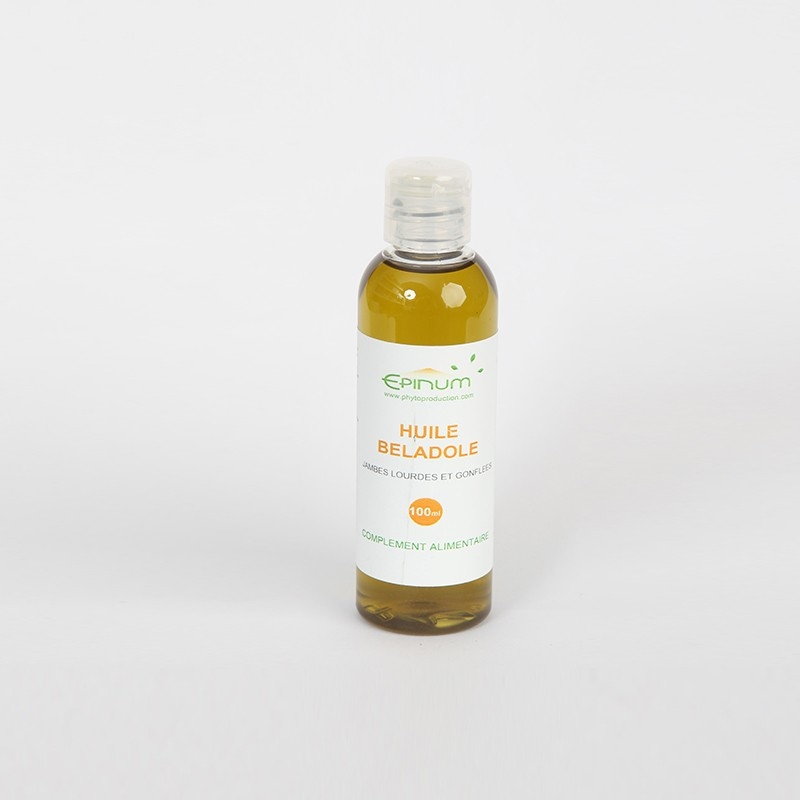  
Beladole oil
comfort of heavy legs
Help the venous circulation in the legs
By regulating micro venous circulation, Beladole oil relieves the legs
Helped with action of horse chestnut, lavender and peppermint that remove the heaviness feeling while refreshing. Anti-ecchymotic action transforms the lazy circulation in decongest and refreshed legs .
Dosage : 1 to 2 applications during the day or evening
Conditionnement : 100 ml
Description
Natural treatment for heavy legs
Helped with the active ingredients as horse chestnut, lavender and refreshing peppermint, legs are decongest by an efficient and safe oil.
Regulating thevenous micro circulation, decongesting, acting against varicose veins and bruise.
Product designed and manufactured in France.
Decongesting, strong in a few applications, against venous troubles due to problem of blood flow to the heart; strong and very active against varicosity thanks to the action of laurus nobilis and hyppocastanum.
Beladole oil has also healing and soothing property with the action of lavandula and ruscus acculatus.
1 to 2 times a day, massage of the feet, from the sole of the feet to the ankle; insist on the ankle and calf. work up to the thigh, do the same for the back of the leg. You will fell the result right away !
Overweight is the first symptom of oedema. Legs are swelling, especially in the evening. You may feel heavy legs and encounter difficulty to put on your shoes, often you are victim of lazy blood circulation.
It's due to bad blood flow to the heart, and it causes venous insufficiency.
Swelling legs hamper walking and it becomes tiring and painful.
Note :
Avoid prolonged upright position, trampling, heat source on the ground and too tight socks at the ankle level.
If possible, during the bedtime, lift your legs to improve the venous return during the night.
During the day, wear support stockings; they compress the limbs and veins and reduce the vein diameter and the venous return to the heart is quicker.
The active ingredients of Beladole penetrates the skin and your legs will feel light and rested; in the evening, a copious application and your legs will be relaxed and refreshed quasi immediately.
Precisions :Beladole oil with its active ingredients ensures light, relief and relaxation of the treated area (legs).
Ingrédients
HV hazelnut
aesculus hippocastanum extract
laurus nobilis
mentha piprita 
cupressus sempervirens
ruscus aculatus
Helycrisum italicum
syzygum aromaticum
lavendula augustifolia oil
Précisions
Always test a bit of the product before using it all over.
Mode d'emploi
Light massage until 3 times a day on the legs when you feel uncomfortable.
The bottle is easily transported.

To make sure that your massage oil works, try to massage 2 times a day and everyday even if the first few days you don't feel the expected result.
Don't exceed the daily dose
Keep away from children reach