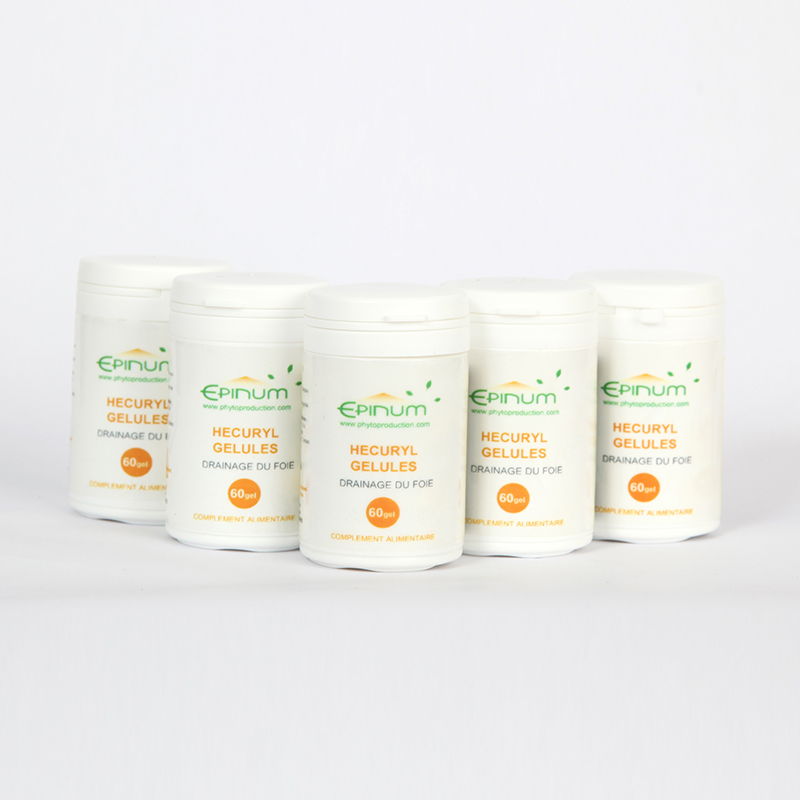  
Package for the liver
Drainer for the liver
Hecuryl treatment for the serious cases: the liver is important.
Drainer for the liver of gourmands. Red skin or poor skin color and itching.

5 pill boxes to fix you up.
With this package, you will get into shape and find a beautiful skin color
Dosage :
Conditionnement : 5 boxes
Description
Hecuryl capsules :

A specific action on the liver with its detoxifying property on epicurian abuses, temporary or permanent..

 
5 boxes of 60 capsules : a package for a refreshing cure.

Perfectly dosed, Hecuryl drains the galbladder and the liver impurity thanks to the flavonolignan it contains; enzymatic biosynthesis stimulates the capacity of hepatic regeneration.

Hecuryl cleanses the liver and protects it, it also increases the elimination of the stored free radicals.

There is no side effect; thus, it ensures long draining treatment with specific action that brings comfort and wellbeing to the affected person.

The recommended treatment is about 12 days at the rate of 9 capsules per day during the 3 first days, then 4 to 6 capsules per day taken in two times in the morning and in the evening. The treatment is to be renewed 5 times after a week to 10 days of stop between each pill box.

In emergency case (itching or pain on the right of the belt) the first box should be taken at the rythm of 3 capsules 4 times a day during 5 days; the second 3 capsules for each dose, 2 to 3 times a day.
Not exceed the recommended daily dose.
Products should be stored out of the reach of children.
It is a dietary supplement that cannot be used as a subtitute for meal.
Don't exceed the daily dose
Keep away from children reach