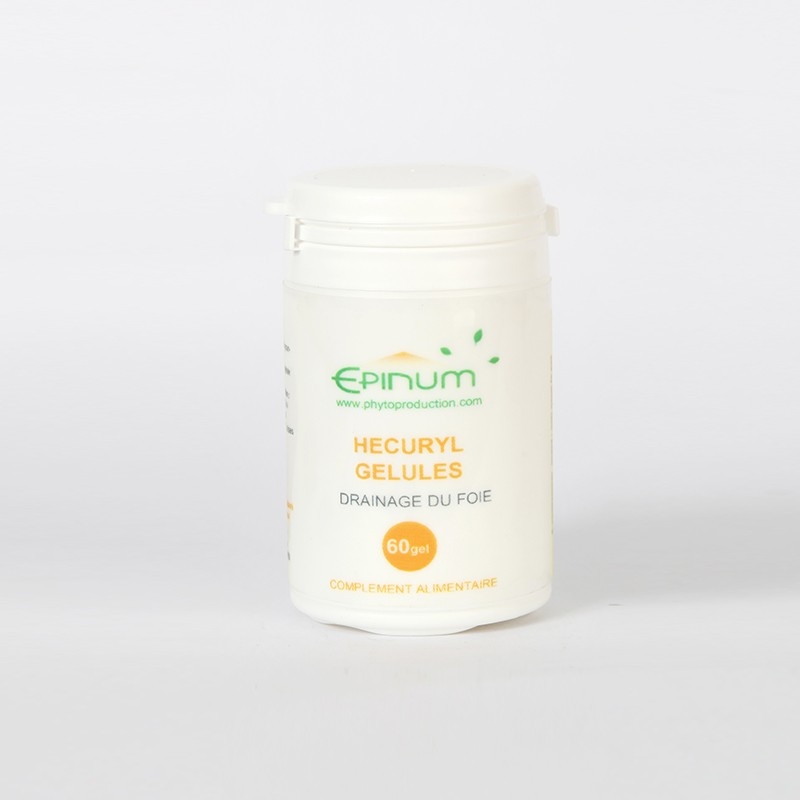  
Hecuryl capsules
Safe drainer for the liver
Drainer for the liver of gourmands : Hecuryl capsule, drainer of abused liver : Hecuryl capsule, a safe product.
Milk thistle and Chrysanthellum with their specific action on liver, bile and pancreas have moreover a detoxifying property on epicurian abuses, temporary or permanent.
Dosage : 2 x 3 capsules a day
Conditionnement : 60 capsules of 325 mg
Description
Action on liver, bile and pancreas.
Product designed and manufactured in France.
Itching without any reason, on sides at the level of the belt and on the lower back especially on evening and/or slow, latent, soft headache not explainable also called hepatic migraine and a poor skin color.
It's time to do something, especially if you remark tha your eyes are yellow.
Yellow eye, or jaundice = problem with the liver.
A perfectly dosed Milk thistle and Chrysanthellum drains the liver impurity and the galbladder, bile and pancreas thanks to the flavonolignan it contains; enzymatic biosynthesis stimulates the capacity of hepatic regeneration.
Plants stimulate the liver activity and cleanse and protect it, they also increase the elimination of the stored free radicals.
There is no side effect for the preconised dose. Thus, it ensure long draining treatment with specific action that brings comfort and wellbeing to the affected person.
Don't neglect the adverse effect of alcohol on liver, kidneys and the whole body; don't ignore either that being able to partially remove an abuse and drain impurity is an opportunity.
You will get into shape and find a beautiful skin color, it is the guarantee of a clean liver, especially if you decide to not drink alcohol and have health food during the treatment.
Ingrédients
Milk thistle
Chrysanthellum americanum
Précisions
Hecuryl gélules helps when the liver, bile and pancreas are tired or even overused then: yelow eyes, nausea, itching or unexplained headache and malaise.
It is a dietary supplement that cannot be used as a subtitute for meal.
Mode d'emploi
Intensive treatment is 9 capsules a day during the first 3 days and then 4 to 6 capsules a day, into two or three doses in the morning and in the evening.

In emergency case (itching or pain on the right of the belt) the first box should be taken at the rythm of 3 capsules 4 times a day during 3 days; the second 3 capsules for each dose, 2 to 3 times a day during 10 days.
Don't exceed the daily dose
Keep away from children reach