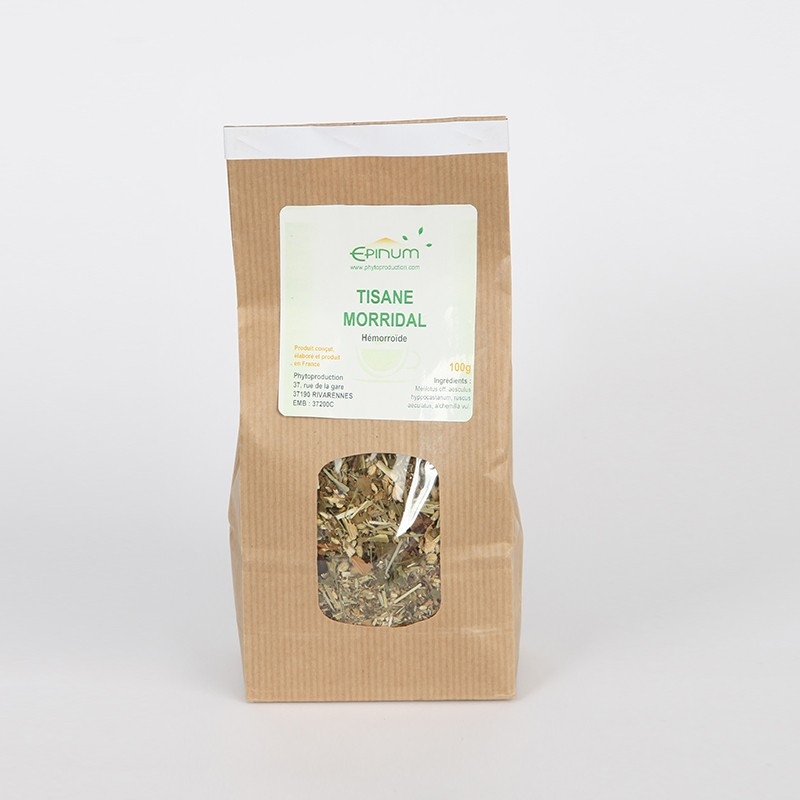  
Morridal herbal tea
Hemorrhoids M/W
Painful annal veins = Hemorrhoids
Dilated and painful veins around the anus can be helped with this herbal tea due to its well-balanced active ingredients.
The use is simple: 1 to 2 tablespoon in a liter of boiled water; drink hot or cold.
Dosage : 1 pinch per cup or 1 to 2 tablespoon per liter of boiled water
Conditionnement : 100G
Description
Herbal tea for hemorrhoids
Help the hemorrhoids and their discomfort
The product is also available in cream for acute attacks.
The hemorrhoids are the veins around the anus; if their are mistreated due to bad habit or food, they react and can be painful.
It may be due to:
chronic constipation, poor diet, repeated heavier lifting, spicy food or alcohol abuse.
For pregnant women, this problem also appear and they can benefit from this herbal tea.
It enables a fast wound healing and comforts the area.
Instructions for use: 1 pinch per cup, or better, boil 1 liter of water and add 1 tablespoon of herbal tea, cover and let infuse all night long, then filter and consum during the next day hot or cold.
Ingrédients
Herbal tea anti-hemorrhoid
Don't exceed the daily dose
Keep away from children reach