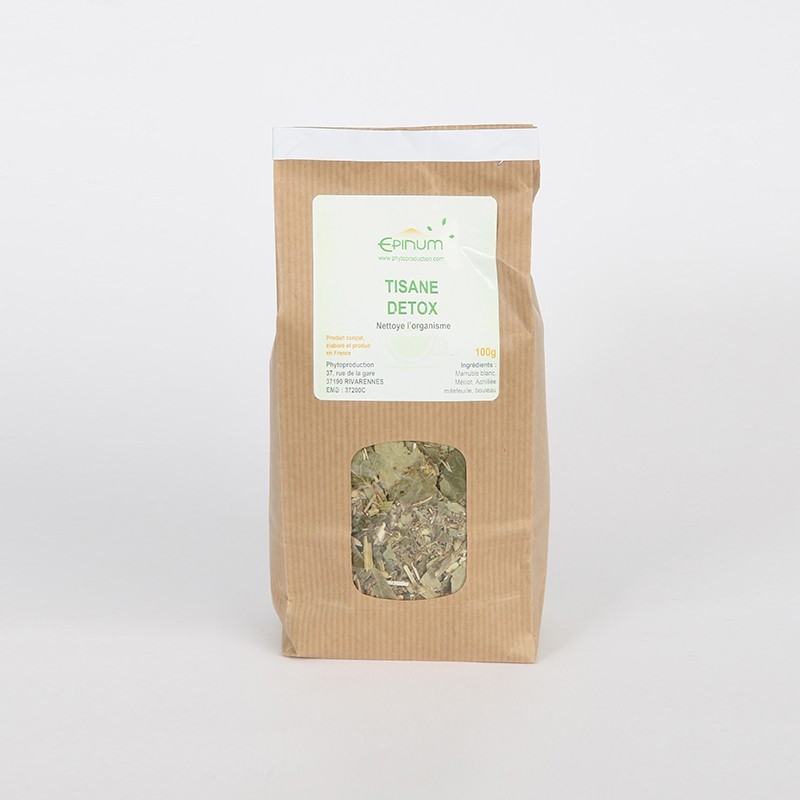  
Detox herbal tea
Cleaning the body
It is an opportunity to deep cleanse your body.
Cleansing of organs is greatly facilitated with the safe active ingredients inside Detox herbal tea.
The selected plants ensure a precious help for the body overloaded with toxins.
Dosage : 1 to 2 cups per day
Conditionnement : 100 g
Description
Organs such as liver, kidney and digestive system was formerly called emuntories.
Let us clean them.
They are used to evacuate in a general way; but when they are overloed with free radicals (toxins) they weaken and we have to help them.
The selected plants ensure a quick and efficient treatment to deeply cleanse your body in 5 to 8 days; this natural treatment with herbal medicine helps you get in shape.
After a treament of few days, you will feel healthier.
Our teas already have the good taste but can be softened with honey.
Everyone has his dosage, that's why it is not available in pounch packs, nevertheless, be careful of overdose: 1 pinch per cup is a good dose.
The tea is composed of pieces of plant of many sizes; not only it is normal but it's especially reassuring.
Ingrédients
Horehound white,
Sweet clover,
Yarrow,
birch.
Précisions
The herbal tea detox can quickly fight against free radicals.

Mode d'emploi
Let infuse 10-12 mn and express the plants (press to release the active ingredients) at the end of the infusion.

May be consumed hot or cold.
Don't exceed the daily dose
Keep away from children reach