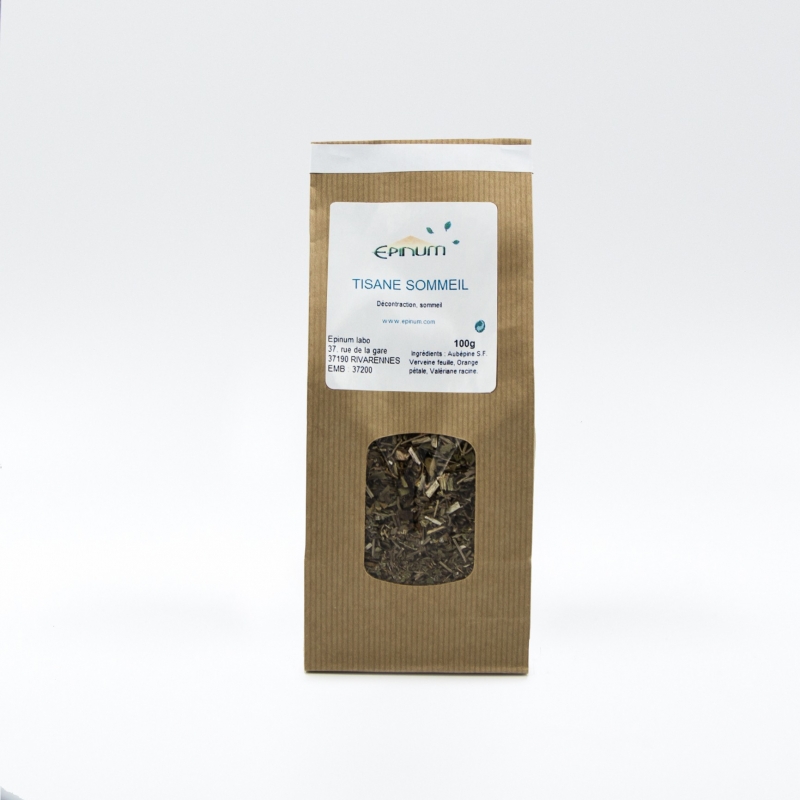  
Sleep Herbal tea
Sleep well.
Feel quiet and calm when you sleep
For temporary sleep loss, herbal tea for sleep is the best remedy.  
When a natural herbal tea is well balanced, it helps you to fall asleep easily.



Dosage : 1 pinch per cup
Conditionnement : Kraft bag of 100 g.
Description
Being relaxed to sleep well.
Natural herbal tea with selected plants.
Product designed and manufactured in France.

The plants selection with calming, relaxing and remineralizing property will fight the repeated difficulty to fail asleep.

A few days treatment and you will find calm, relax and sleepiness thanks to the valerian and verbena.

Hawthorn and orange tree petal will add softness to this relaxation that will begin at the first cup.

All our herbal teas are good to taste, but can be sweetened with honey.

The needs of each are different, this to explain that it is not available in sachets-doses, but be careful not to over-dose: 1 pinch per cup is a good dose.

It will prove to you that you have to do with real herbal medicine products, it is the pieces of plants which of all their size come to compose your herbal tea; not only is it normal, but above all it is reassuring.

Customer reviews
Reviews about this product

Show attestation
Goût agréable bon, après je suis quelqu'un qui dort vraiment mal, je me réveille plusieurs fois par nuit et même en prenant la tisane pas mieux.
Ingrédients
Hawthorn
trefoil
verbena
orange tree petal
valerian
Précisions
Herbal tea for sleep fight against emotions and temporary trouble failing asleep.
Mode d'emploi
Let infuse 10-12 mn with hot water and let the plants express (press to release the active ingredients) at the end of the infusion.

May be consumed hot or cold.
Don't exceed the daily dose
Keep away from children reach