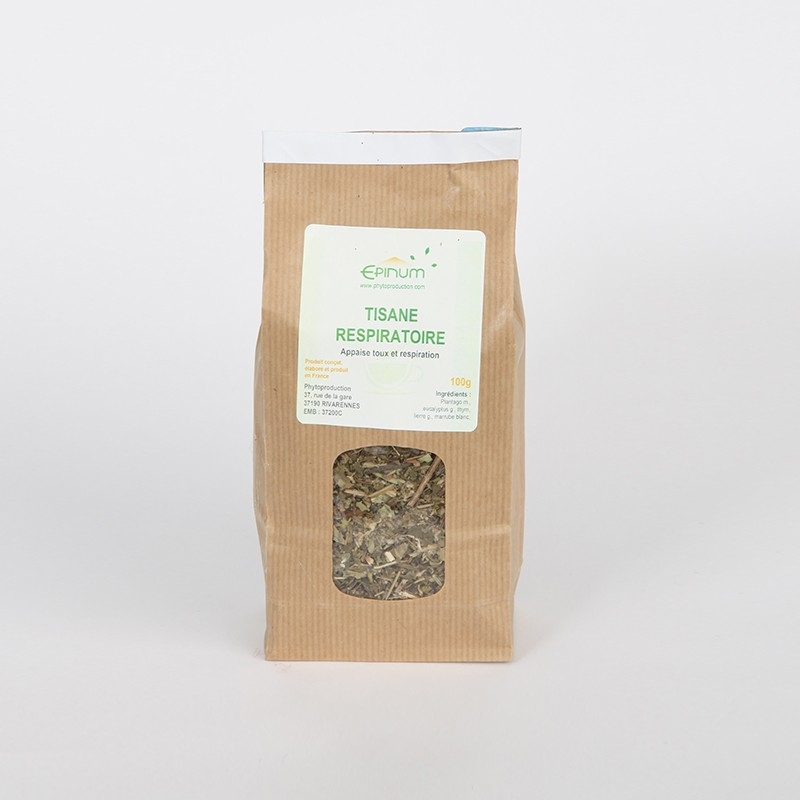  
Respiratory herbal tea
Plants also help the bronchial tubes
As soon as the first sympton of congestion of respiratory system occur, take 2/4 cups per day. Anti-bacterial and anti-spasmodic quality of the active ingredients such as eucalyptus and thyme is a quick solution to calm your respiratory system.

Do not hesitate to take two Epissene capsules with your herbal tea.
Description
Natural preparation of plants from herbal medicine against cough and temporary respiratory trouble.
Product designed and manufactured in France.


For an effective drainage of the expectorant respiratory system, the active ingredients immediately soothen the cough.   

The selected plants with calming property such as eucalyptus and wild thyme improve the air passage and protect you from cough.

This stertorous breathing which is uncomfortable, will be softened and more calm with the herbal tea.

Treatment of a few days will enable you to regain respiratory comfort.

Do not hesitate to take 2 Epissene capsules with your tea.

All our herbal teas are good to taste, but can be sweetened with honey.

The needs of each are different, this to explain that it is not available in sachets-doses, but be careful not to over-dose: 1 pinch per cup is a good dose.

It will prove to you that you have to do with real herbal medicine products, it is the pieces of plants which of all their size come to compose your herbal tea; not only is it normal, but above all it is reassuring.

For an high effectiveness, do not hesitate to prepare one liter of tea with 10 to 15 g powder in a boiling water and let infuse.
Take 4 to 5 cups per day, preferable heated and sweetened.
Don't exceed the daily dose
Keep away from children reach