 
Epical cream
A relief for the heel spur
Plantar fasciitis, heel spur treatment: Epical cream
An herbal cream highly effective to treat heel spur-Lenoirs thorn
Treatment of the heel spur
Epinum knows this issue back and front since more than 10 years. Relieve yourself with this herbal cream with soothing property. 
Heel spur, Lenoirs thorn : Epical cream
Dosage : A small amount of 3 g each evening
Conditionnement : 45 ml
Description
To have pain under the heel, it was necessary to walk quickly or for a long time or to trample or to do a sport where the heel is brutally solicited and we end with the bad shoes, those which are too loose or badly designed and who badly hold the foot.
It is also valid for the pain underfoot, usually due to trampling; it is treated as a plantar fasciitis.
Seniors and the youngest, everyone can be a victim. Theory is that the body is horrified by emptiness and when a space is empty for too long, the body inhabits it. To say that the tendons are responsible is a bit simple, but sums it all up.
By developing very quickly, or by making a special effort, the heel spur damages the fibers composed of the tendons which enclose it in a very tight and perfect manner. But by being subjected to a particular pressure, inflammation arrives and the pain is settled.
How to get rid of the bone spur?
Remove it:there are many risks and often a few months after the surgical procedure, the deformation of the heel begins and it is worse than before, otherwise if it was the panacea we would do it all.
Hot brick: be careful not to damage flesh that is not made to withstand pressures at high temperatures, because after that it is irreversible; pain usually occurs in the second year.
Finally, the tendons created an empty space with the existence of the bone spur, if you crush the spur with the hot brick, what becomes this space?
Often, by crushing the spur you also crush one or more fibers, what is done after? Note that it happens to one in three people.
When these people question us about the possibilities of the cream to repair it, we still do not have the answer.
If attention is drawn to tendinitis (fascia inflammation), it is because before this pain, you had your bone spur, and the tendons which enclosed it were in good condition, which made that you didn't feel anything. And that leads us to acute tendinitis.
You will have to repair these fibers, gently. Whatever you do, your bone spur will stay where it is, but little by little it will not hurt you anymore. You will feel pain free for about 3 years, and then you will not think about it anymore.
It will be necessary to reconnect with the past and know how to find the comfort of the heel.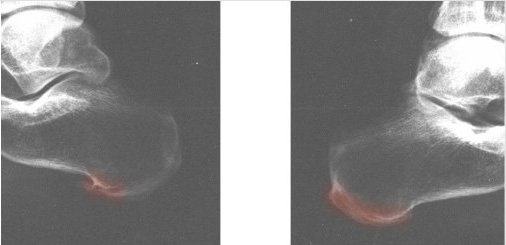 The one on the left is very pointed, it is not very painful because it is not bulky but it will develop. The other on the right, very enveloping is very bulky and more painful.
Epical cream will bring you the needed comfort
Don't massage with the Epical cream, just put it on the painful area; then wrap it with Supra100 so that the cream doesn't dye out and acts all night long.
The cream easily penetrates the skin (through fraxinus elxcesior) to come into contact with the thorn; the active ingredients will quickly relieve the pain.

Epical cream may leave some stains; to protect yourself, you shall use Supra100 that has two missions: avoid the stains on the bed sheets and prevent the cream from dying out.
Cut a length of 10 to 14 cm and directly wrap the heel with Supra100 waterproof bandage.

You may protect your bandage by adding a cut old sock.
Instructions for use
Epical cream should be kept in the refrigerator.

Apply or rather put 2 to 3 g of Epical cream with no massage on the heel in evening before sleeping; wrap your feet with the bandage Supra 100, the cream should not dye out. Apply the cream on a daily basis as long as your heel is painful; it needs time to improve your heel conditions.
It will also improve the flexibility of the heel's tendons and muscles.
Epical cream is often the ultimate solution for those who have tried everything; if both feet are painful, you will need two jars.
Epical cream is applied without massage depending on your pain during 2 weeks or more; don't interrupt applications when you still feel the pain.

Wear flat shoes if possible, walk slowly by lifting your foot with no forcing and make sure to not drag your toe as you used to when the heel spur was painful.

If you wear a sole that is comfortable for you, go on.

The products with the Epical system are: Epical oil and Supra100
Cream-oil and Supra100 should be used in a daily basis for the best result.
Soften your feet 
In the morning soften your 2 feet with 1 application of Epical oil in very light but very long massages (1 to 2 minutes) on clean and damp feet, apply the Epical oil in a light coat.
Epical oil has a specific use for your recovery.
Indeed, since you have trouble with your heel spur and often to protect you, you use to walk badly, and you tend to turn your foot and there you feel better.
You must refuse these bad walking habits that promote a general foot tendonitis. Do not allow this onset of chronic tendonitis to develop, thinking that it will calm down as time goes by. This is the reason why the massages are recommended. Moreover it will comfort your feet; it seems to have the feet that fly as told us a teenager for his foot tendonitis.
A little reminder about tendinitis: a prolonged effort without preparation and that is enough to create a beginning of inflammation.
We now know that some deformities move by analgesic reflex. Thus, when the muscles are not properly solicited, the body compensates by using other muscles, which causes damage elsewhere in the joints and the musculoskeletal system.
Always test a bit of the product before using it all over.
Not exceed the recommended daily dose.
Herbal products should be stored out of the reach of children.
EVOLUTION OF THE BONE SPUR
What happens to a heel spur 6 years later?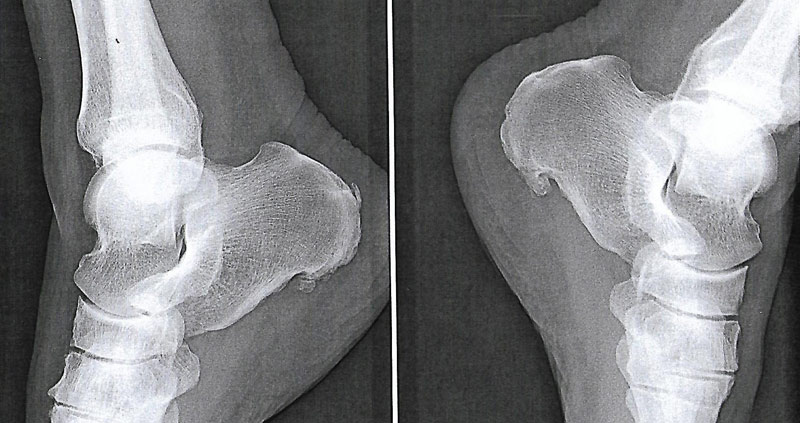 In the picture on the left, we see a thickening of the spine, which- having become less sharp and pointed- will no longer be sensitive to shocks and movements. Therefore it will be better inserted into the fibers and tendons without causing pain while preserving and respecting the fascia.
Otherwise, it would take a lot of pressure on this part of the foot to cause new intense pain.
In the picture on the right we see the same phenomenon with more on the limit of the heel; a slight growth that has also thickened does not allow tendons aggression and ensure comfort.
Our study:
Radios have been taken every year to check the progress of the spines and as from and since the radios of five years we have not noted evolution, so we can say that the life span of a heel spur is between 4 and 5 years old.
As such and during this time, the walks should be soft and short and "brisk walk" should be proscribed.
If however the pain returns, (approximately 18 months to 2 years, in general) the use of the cream will be necessary again, but often for a very short period.
This plantar fascia of which we speak so much, how it is made
Hereinafter, a picture of the plantar fascia (under the left foot) we distinguish the fibers grouped into bundles known as tendons.
The soles of the feet remain one of the most used parts of the human body.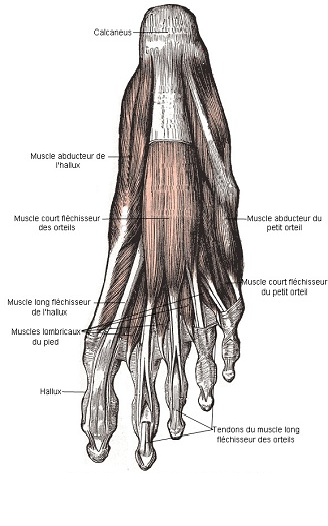 Customer reviews
Reviews about this product

Show attestation
Il y a une amélioration sur l'épine

A voir avec plus de temps...

très efficace, heureusement

Pas trop amélioration pour l'instant

Le traitement commence tout juste,pour l'instant pas d' amélioration.

Excellent et calme bien et vite
Ingrédients
Fraxinus excelsior
european oil
Spirea Ulmaria 
vaseline
lanoline.
Précisions
The epical cream relieves heel spur and helps to act against plantar fascitiis.
Don't exceed the daily dose
Keep away from children reach