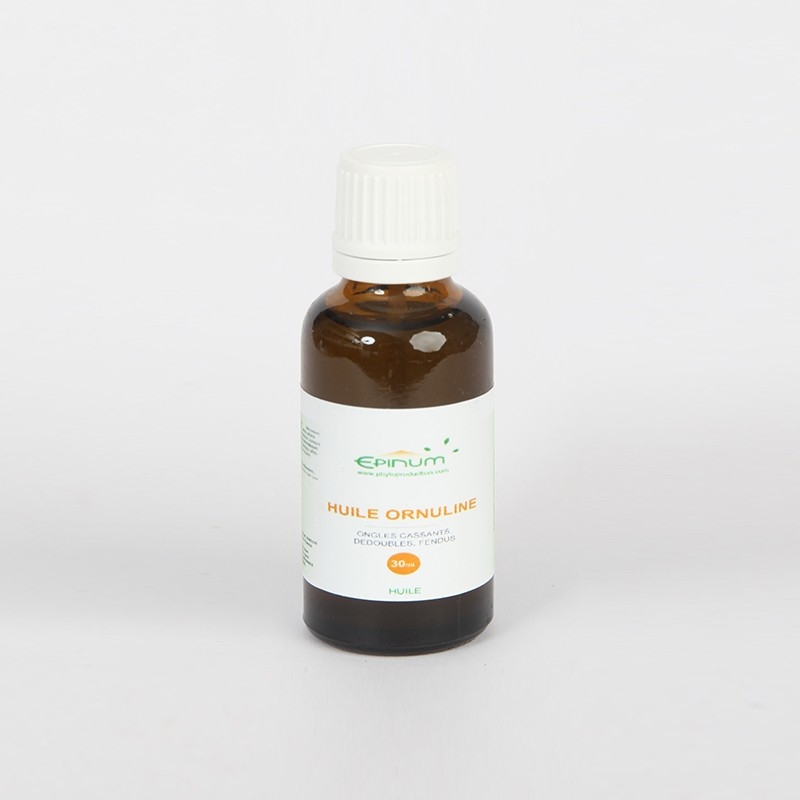  
Ornuline oil
To treat broken nails
Soft and breakable nails often due to poor diet that is the first responsible; there is also shocks on nails causing injuries ridged or split nails.
The concerned nail will not grow well. To help it to grow normally, we have to nourrish it.
Ornuline oil helps you to quickly strenghten your nails.
Dosage : 1 to 2 applications per day
Conditionnement : Bottle of 30ml with an applicator
Description
Repair split, soft, breakable, fragile nails: Ornuline - epinum
Product designed and manufactured in France.
Stress, tobacco, alcohol, coffee use the reserve of trace elements, the principal food for nails and hair, but the worst is damage on the nail bed.
In fact, the nail bed that is on the basis of the nail is the "plant" that produces keratin. Thus, it doesn't tolerate any shock or abuse, otherwise it will be a scarred nail (often lifelong). It happens when injury or pression is focused on its basis.
Any shock may cause nail injury. Knowing that a shock on the nail bed which is the continuation of the nail under the skin causes a nail that will not grow properly and rebuilting will be slow.
For growing your nail, you have to nourrish it with the trace elements and vitamins necessary to its development.
Ornuline oil enables an efficient repair of fingernails or toenails in case of: vertically split nails , broken, duplicated, fragile or soft nails. Once your nail is treated, during three weeks to one month (only one bottle is enough), your nail will grow normaly as before the shock.
The active ingredients of Ornuline oil, by nourrishing and strengthening the nail, also improve precision of gestures. It is also designed for healing the split and ridged nails by bringing an important reserve of trace elements.
It is recommended to wear a dressing at the beginning to protect the split nails or largely duplicated nails. No curettage of the split nail should be done as it may leave indelible scar(if necessary just file the sharp split).
Scares will be removed progressively when the nail grows.
But be aware that the nail bed controls everything; so you have to protect it as a precaution.
Ingrédients
Sesamum indicum oil
urtica dioica extract
symphitum consolida
syzygium aromaticum extract
HV borrago officinalis
eugenol2
linalol
Précisions
Ornuline oil helps verticaly split nails, fragile and duplicated.
Always test a bit of the product before using it all over.
Mode d'emploi
At the beginning, apply Ornuline oil for three successive days; then take the normal treatment: application every second or third day during 3 weeks to one month. Treatment is renewable. 
Don't exceed the daily dose
Keep away from children reach