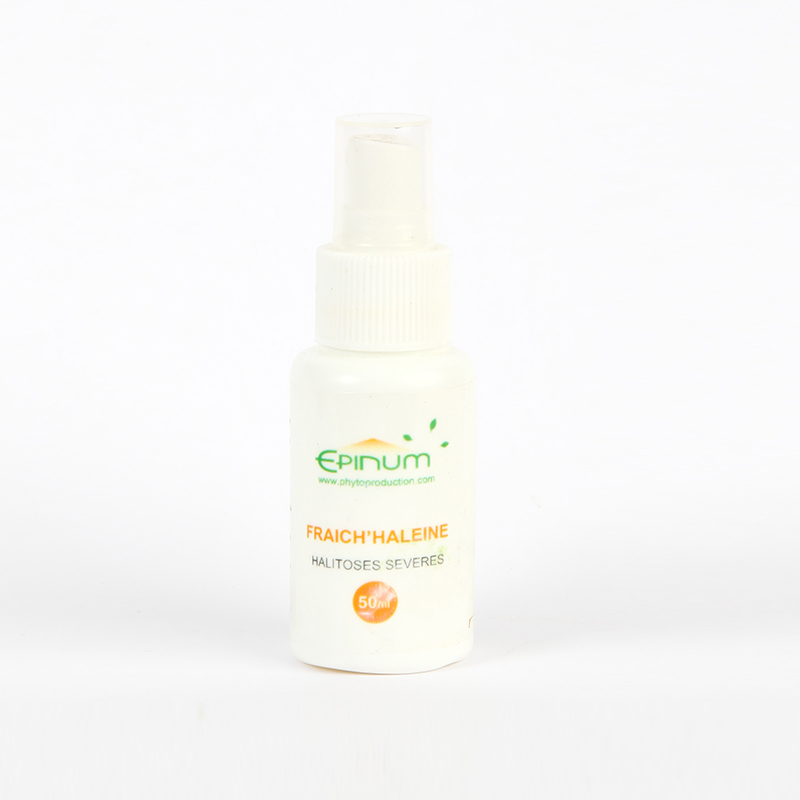  
Fraîch'haleine
Fight bad breath
Fraîch'haleine for people suffering from halitosis
Fraîch'haleine fight bad breath with good results.
Bad breath may due to diabetes, diseased teeth, spicy food and other inexplicable reasons.
Ideal for uncertain oral care, smokers, people on diet and coffee drinkers .
Dosage : 1 to 5 sprays per day
Conditionnement : Spray of 50 ml
Description
Epinum total commitment against halitosis
Completely free yourself from halitosis, this handicap of bad breath.
30% of the population is affected by bad breath and it's embarrasing.
Some people have bad breath that repulse their surrounding, the active ingredients of Fraich'Haleine will giv them confidence.
Even if the person is not affected by serious halitosis, he needs to be assured and self-confidence.
Product designed and manufactured in France.
The active ingredients will help to regain self-confidence.
Breath oxidizes over time and due to food stuck in the teeth; perfectly dosed active ingredients provides comfort and freshness after one or two sprays, to ensure continuous action, thanks to the cocktail of essential oil .
Ideal to protect from nasopharyngal odors such as gingitivis, aphtas, or small dental infections.
Good result will be obtained by directing the sprays: towards the back teeth or the tongue, in this way, the product will spread over the mouth.
If you feel that the halitosis is due to a pharyngal cause, spray one time on the top of the tongue.
What is sprayed to have such a remarkable result ?
A pleasent oil mixture to be kept in the mouth 1 to 3 mn depending on your breath , the time needed so that the active ingredients can deeply clean the pharyngal cavity, teeth and tongue.
Then, split it and don't rinse your month.
You split this liquid mixted with saliva affected by the bacteria and food and you will see the cleaning property of the active ingredients inside Fraîch'haleine for the next few hours.
The active ingredients of Fraich'haleine provide a complete and comforting action, there is a synergy to healthily soften the mouth thanks to their anti baterial and deodorizing power.
Fraîch' haleine is a useful, efficient and discreet friend, small enough to fit in a purse or briefcase.
Ingrédients
Corylus avellana
Helianthus annuum
Essential oil of maleuleca
citrus pericarp
syzygium aromaticum
cinnamomum aromaticum
Précisions
For halitosis, Fraîch'haleine helps you to have self-confidence.
Mode d'emploi
The active ingredients will be kept in your mouth 1 to 3 minutes and after that you have to split it but never swallow this product with impurity.  

Then, talk for as close as you like to your partner who will smell a lemony breath.

Not recommended for pregnant women and nursing mothers.

You can spray 6 times per day.
Don't exceed the daily dose
Keep away from children reach