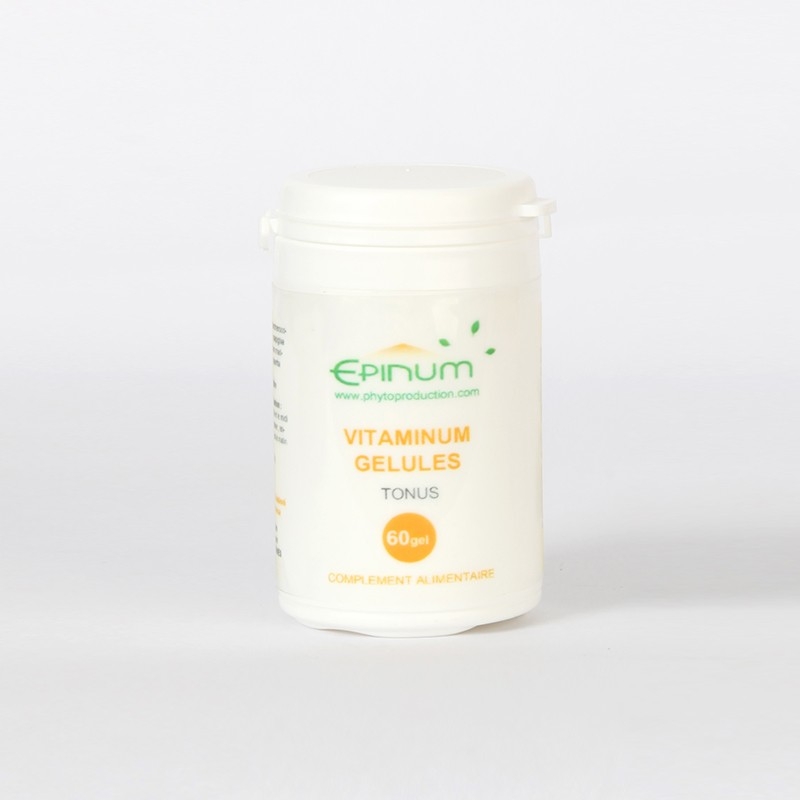  
Vitaminum capsules
Helps to regain energy
The cure of Vitaminum is the dynamism of the seniors.
Lack of energy ? Tiredness ? Cold ?
Find your vitality with this cocktail special.
Stimulating physical and intellectual properties with the necessary active ingredients: vitamins, antioxidant, mineral salts and plants rich in magnesium.


Dosage : 1 to 4 capsules per day
Conditionnement : 60 capsules of 310mg
Description
Stimulating the tonic and physical-intellectual properties: vitamins, magnesium, anti-oxidant, mineral salts, toners.
Plants that allow, among other things, to fight against colds and fatigue, not to mention a good general stimulation.
Product designed, manufactured and made in France.
Mineral salts are derived directly from plants without being added (indeed the additions are often only partially assimilable).
What comes from the plant is immediately assimilable, hence a much better result and better tone, better protection.

Restoring active ingredients such as eleutherococcus and peppermint. Vitamins and minerals such as vitamin C and magnesium, finally a coal that provides the antioxidant necessary for a good shape and in addition, the maintenance of the liver becoming possibly fragile with the years.

Eleutherococcus and Schizandra, two plants with the toning properties necessary to fight against the state of fatigue, prodigious in the states of convalescence.

Peppermint for a higher energizing level, producing the reactive antioxidant action on free radicals and facilitating the cleansing of the body and the evacuation of toxins.

Nettle to provide a strong magnesium and remineralizing and safe action.  large amount of natural vitamin C, immediately available and rich.

Vitaminum capsules developed for elderly provides magnificient assets with its specific constituents that stimulate the physical and mental
Make a cure of one month 2 or 3 times a year or ....
in case of cooling.
Customer reviews
Reviews about this product

Show attestation
Pas assez de recul pour donner un avis
Ingrédients
Eleuthérocoque
Citrulline
Chardon marie
Menthe poivrée
Ortie dioïque
Zinc
Vitamine C
Précisions
The Vitaminum capsule, helps all those whose toning and intellectual properties, are losing speed and a need for vitality is necessary.
It is a dietary supplement that cannot be used as a subtitute for meal.
Mode d'emploi
Daily dose: 2 doses of 3 capsules Morning and noon, The first week.
Avoid taking Vitaminum capsules at night.
The maintenance period: 1 capsule in the morning, 1 capsule at lunch.
Don't exceed the daily dose
Keep away from children reach