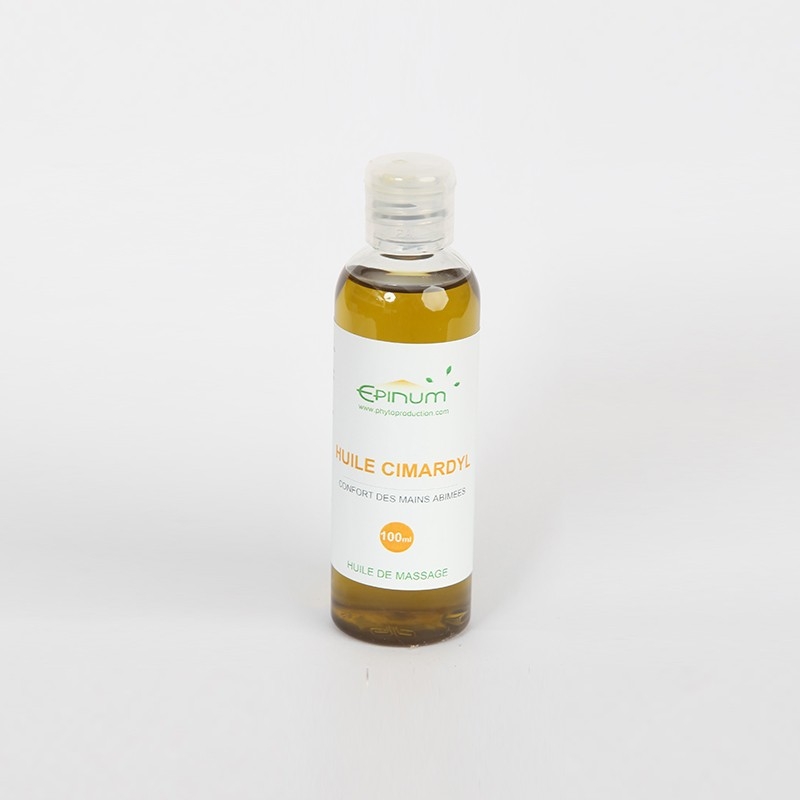  
Cimardyl oil
Comfort of damaged hands
Rebuilt the damaged hands
Burdock and geranium help to rebuilt the hands very chapped and/or damaged of manual workers, dry and hard hands or hands always in water.
The other active ingredients help to refine the action of this remarkable herbal oil.
Especially Cimardyl that leaves the damaged hands soft and supple.
Dosage : 1 to 2 applications per day
Conditionnement : 100 ml
Description
Help chapped and/or damaged hands 
Product designed and manufactured in France.
How does cymadril work in the hands crevasses treatment?
To treat the chapped hands, we have to repair, hydrate, re-lubricate and soften. Cymadril oil is composed of the active ingredients needed to repair the hands thoroughly. Plantain, arnica and geranium rebuilt and repair wound and cracking , without weakening the hands in record time.
We appreciate the quality of burdocks not destined to housewives but for those who need to keep hard hands but repaired in depth, also thanks to the synergy of geranium and plantain leaving the hands soft.
Calendula and plantain act against hematoma and niggling injuries; that makes the Cimardyl the reference hands repair product for artisans, handymen and other manual workers who use everyday their cracked hands under difficult conditions.
The active ingredients of Cimardyl play a perfect role in case of small injury.
The active ingredients of Cimardyl are first left on the skin and then penetrates quickly under the skin, that enable good healing conditions with the help of burdock and geranium that have been known for centuries for their benefit on cracked, chapped hands, scratches and abrasions . Geranium is also known for its anti-inflammatory and haemostatic property, and its strong healing power.
Massage with Cimardyl oil at least one time a day enables the regeneration of the skin so that the hands become soft and clean.
Cimardyl oil is also enable to repair cracked heel ; in this case, a footbath then massage with cimardyl oil will help to soften the heels in two days.
In the picture 1, you see very damaged and cracked hands.
In the picture 2 and 3 the result after 48 hours at the rate of 2 massages per day, in the morning and the evening.
The difference is noticable, no more cracking and hands are soften.
Skin gets damaged because of lack of water and lipid. It causes suffering and becomes embarrassing for the professional and daily life in general. To avoid getting chapped hands, you should take care of your hands by:
- moisturizing regularly your skin
- protecting your hands from external aggressions (wearing gloves, working bare hands generates scars and small wounds and in winter, deep crevices or chapped skin)
Always try a small area of skin before treating widely.
Do not exceed the recommended daily dose.
Products must be kept out of the reach of children.
Ingrédients
Sesame indicum oil
Europea oil
Pélargonium aspérum
Calendula
Arctium Majus
Argania spinoza
Plantago major
Précisions
Cimardyl oil helps to rebuilt damaged hands without weakening the skin of manual workers; hands are soft and clean, most often within 48 hours. 
Always test a bit of the product before using it all over.
Mode d'emploi
Apply to dry hands : a small amount in your hand palms then massage; when it has been well absorbed, wipe the massaged area with a towel or a paper; you may have a soft and oily feeling but it doesn't stain, leave on for 1 hour and repeat the treatment the next day.
Don't exceed the daily dose
Keep away from children reach