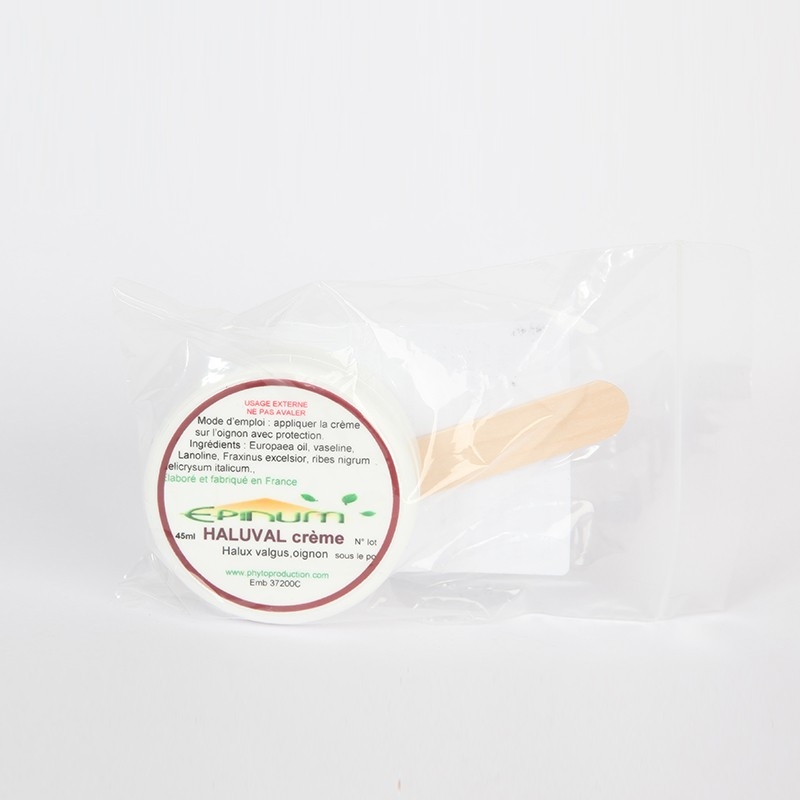  
Haluval crème
Bunions, Hallux Valgus
Relieves hallux valgus also calles bunion by applying Haluval cream especially developped to reduce the bursitis inflammation. The joint is then relieved and the result is fast.
Dosage : 1 to 2 applications/d
Conditionnement : Jar of 45 ml
Description
Bunions usually called hallux valgus, are often inflammation of the metatarsophalangeal joint of the big toe. No matter how the bunions develop, when the moved and enlarged joint has damaged the joint cartilage, turning back (straightening) is always very complicated.

When the distortion begins, there are changes in shape of the big toe with pain. Wearing tight shoes becomes embarrassing.

Called bunion, the hallux valgus is painful, it is a deformation of the big toe called hallux, valgus being the name of the deformation direction.

The role of Haluval is not to reform a right foot whose deformation began long time ago often with a retraction or relaxation of some tissues such as tendons and ligaments and cartilage degradation, but to relieve bursitis (inflammation of the bunion).
Ingrédients
Vaseline
Lanoline
Fraxinus excelsior
Hélycrisum italicum
Ribes nigrum
Olea europaea
Mode d'emploi
The cream will be put either: 1 time in the morning and 1 time in the evening on the bunion in a relaxation day or in the evening before bed to allow the bursitis resorption.

The cream application lasts until the jar is over. Above all, do not apply a compress on the cream, but a waterproof bandage.

For added comfort, Supra100 film will wrap the foot, so the cream does not dry out. The foot can be protected by wrapping it with an old sock, the tip of which has been cut for a good foot breathing.
Don't exceed the daily dose
Keep away from children reach