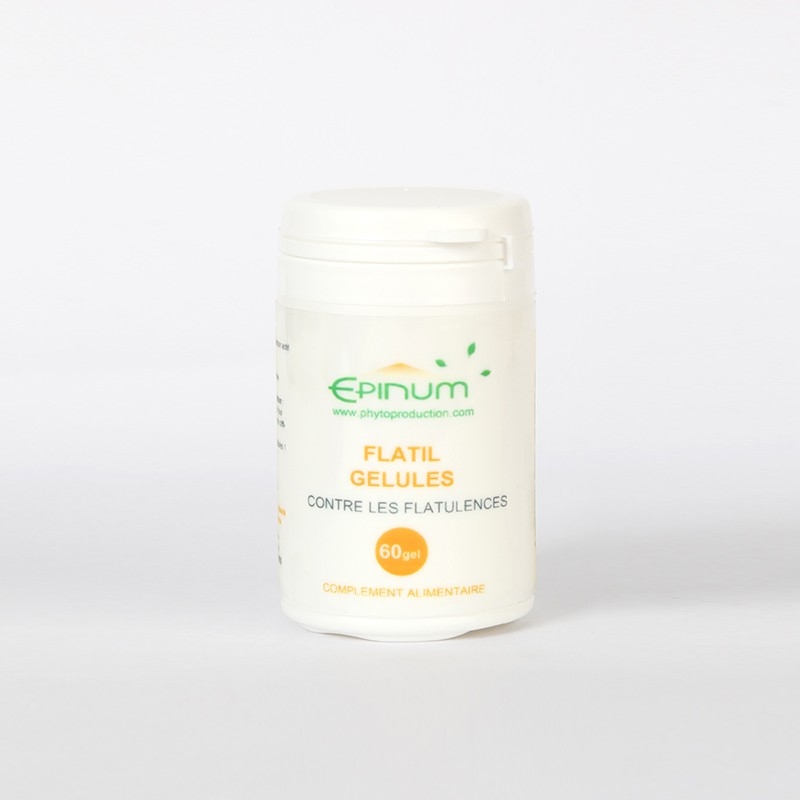  
Flatil Capsuleq
Stop flatulence
Activated carbon the most effective for flatulence.
An activated carbon to suppress flatulence immediately.
Flatil is an activated carbon or activated vegetable carbon it is a light black powder with a porous structure designed to adsorb gases.
In a word we should say special protection for lovers of "game or meat".
Dosage : 1 to 2 capsules per day
Conditionnement : 60 capsules of 290 mg
Description
A good activated carbon that immediately removes flatulence and their odors.
It is, coconut charcoal (the purest) having a very large specific surface that gives it a high adsorbing gas.

Definition of adsorption: Adsorption (not to be confused with absorption) is a phenomenon by which gas molecules stuck to the porous surface of activated carbon grains.
Epinum accustomed and specialist of the capsules with several components, justifies for the speed of execution for flatulence, an exceptional result for this simple capsule, of an old product but mastered.
Activated carbon was used in ancient times by Egyptians around 1550 BC. J.C. for medicinal purposes.
Activated carbon can be produced from any organic plant materoa; rich in carbon: wood, bark, wood pulp, coconut husks, peanut hulls, olive kernels, or coal, peat, lignite, oil residues.
The manufacturing is divided into two stages:
The first step is the calcination or carbonization of the constituent products.
The second step is to increase the adsorbent capacity, eliminating the tars that clog the pores.
The physical activation, with thermal shock (at 900 to 1000 ° C), will create millions of microscopic cells on the surface of the coal, increasing very significantly its surface and its adsorption power.
The pore diameter also depends on the pores existing in the raw material used. The coconut husks give micro-pores (<2 nm), thus allowing a huge adsorption surface.
Activated coal has no taste, odor or unpleasant effect.
Activated coal is used for its ability to purify the intestines.
At the first flatulence, take a capsule that will immediately stop smells and flatulence.
Very well tolerated, it is effective immediately after ingestion.
In the presence of progressive peptic ulcer or intestinal obstruction, activated coal is not recommended, as well as the pathologies that are related to it.
In general, the intake of activated charcoal is not compatible with a drug treatment, or it is necessary to shift from 2 to 3 hours the intake of activated charcoal and taking drugs.
Ingrédients
Précisions
Flatil capsules helps people with severe wmelly flatulence.
This is a dietary supplement and should not be used as a meal replacement.
Mode d'emploi
In general, the needs for activated charcoal are punctually and only when necessary. Daily dose: 1 to 2 doses of 1 capsule distributed throughout the day, preferably 1 taken 1 hour after the meal.
Don't exceed the daily dose
Keep away from children reach