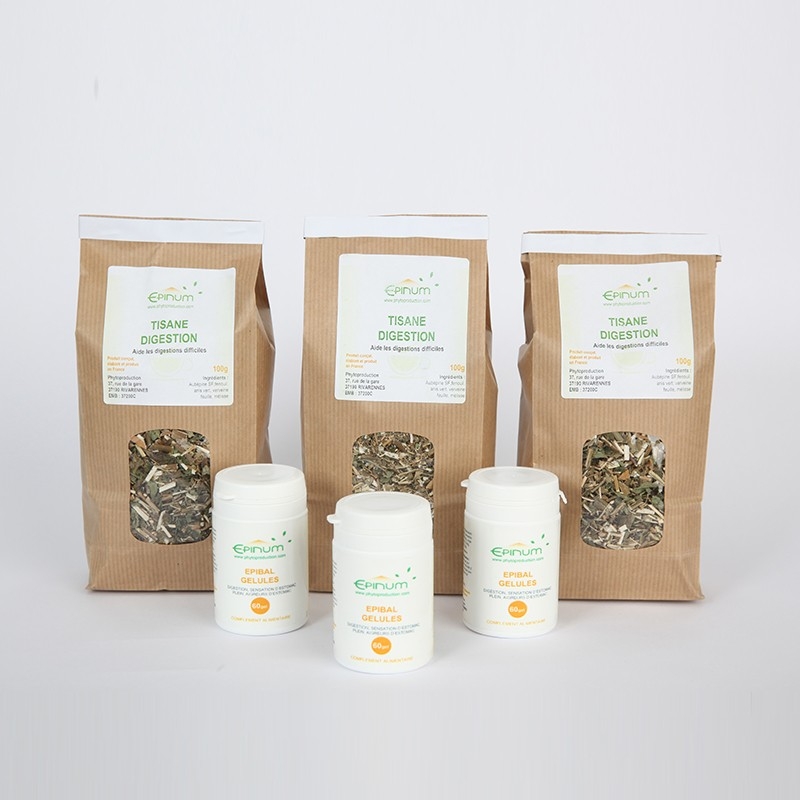  
Package digestion
The essentials for digestion
Digestion should be taken seriously in case of heartburns, flatulences sensation of heaviness, and posssibility of inflammation of digestive system.
Digestion pachage is composed of 2 products:
Digestion Herbal, comfort in a cup.
Epibal capsules easy to digest without heartburn.
Package for digestion troubles, results with a very special price...
Dosage :
Description
Digestion package is composed of:


Digestion Herbal tea :Natural herbal tea to ease digestion.

The plants synergy has a beneficial and spontaneous effect on digestion.

Lemon balm and fennel will relieve the heavyness; associated with the gentle digestive property of de angelica and an additional anti spasmodic and refreshing property of the green anise

3 bags of 100g


Epibal capsules : ease digestion, reduce gas and heartburn. Excessive food causes mini intestinale inflammations; if you don't do anything, even if you do not eat much, you will have flatulences, thus, you have to reduce these inflammations. Synergy of juniper and basil will slowly decrease the inflammation of mucous membraneand you'll find a proper hygien.

 3 boxes of 60 capsules


The package helps digestion troubles...at a very special price...
Don't exceed the daily dose
Keep away from children reach