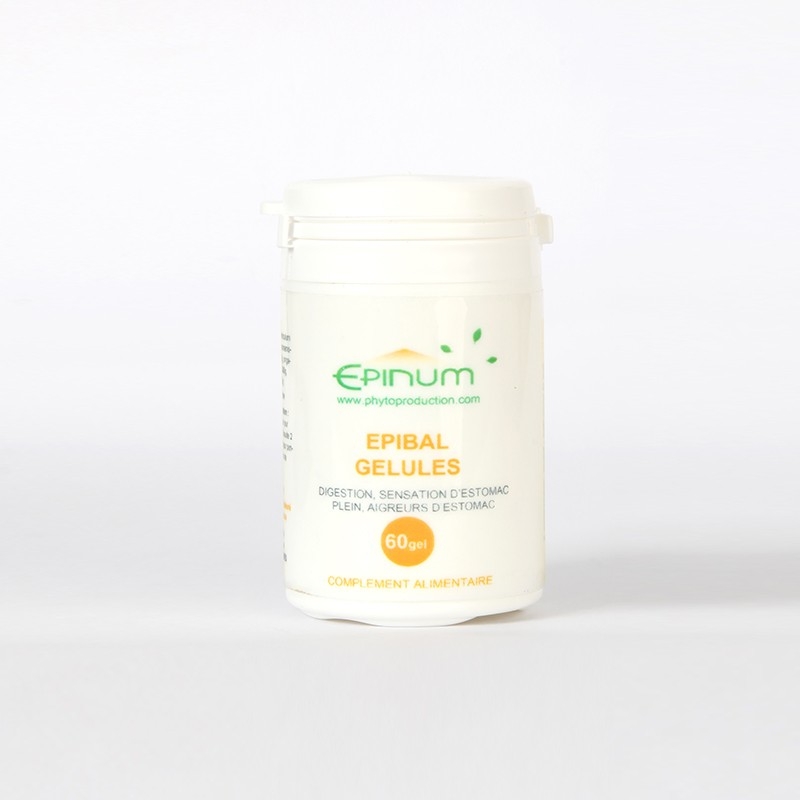  
Epibal capsules
Ease digestion
Digestion problems cause heaviness and heartburn.
Vegetables, meat, alcohol generate heartburn, flatulence and stomach upset.
These problems will continue even if you don't eat the generator food.
3 phenomena are covered: difficulty to digest, heartburn and heaviness.
Dosage :
Conditionnement : 60 capsules of 445 mg
Description
To forget about heartburn and acid indigestion:
Epibal capsules - Epinum
Good digestion without acid indigestion.
Excessive food causes mini intestinale inflammation that will lead to flatulence ; if you don't do anything, even if you do not eat much, you will have flatulences, thus, you have to reduce these inflammations.
Synergy of juniper and basil will slowly decrease the inflammation of mucous membrane and you'll find a proper hygien.
Thus the food supply (solid or liquid) is often the only one responsible for digestion problems, flatulences and/or bloating, not to mention the heaviness feeling before meal that can happen to some people.
Product designed and manufactured in France.
Fennel, rosemary and juniper work together to fight against difficulty of digestion, gaz and bloating, by adding Lithothamne for more comfort.
Epibal capsule is a safe product to treat digestion problems often complicated with heartburn and acid indigestion.
So, even if you do not each much after a copious meal, flatulences and stomach upset may persist. Epibal capsules helps to reduce the micro inflammations.
By taking 2 capsules half a hour before meal Epibal capsules fight against this heaviness sensation before meal and calm spasms. Generally, the food refusal stops.

Digestion is also eased by taking 2 capsules before copious meal or during quick meal to avoid heartburn.

The last treatment day, to make sure that your bowel are clean, eat pasta with ham for lunch and dinner and drink water all day long.  A treatment of 15 days is recommended.


Ingrédients
Fennel
Cinnamomum
Oregano
Lithothamnion
Précisions
Epibal capsules help people who have the heaviness feeling before meal, flatulence, digestion, bloating and even eructation, not to mention the acidity. 
It is a dietary supplement that cannot be used as a subtitute for meal.
Mode d'emploi
2 capsules 1/2 hour before mealtime.
Don't exceed the daily dose
Keep away from children reach