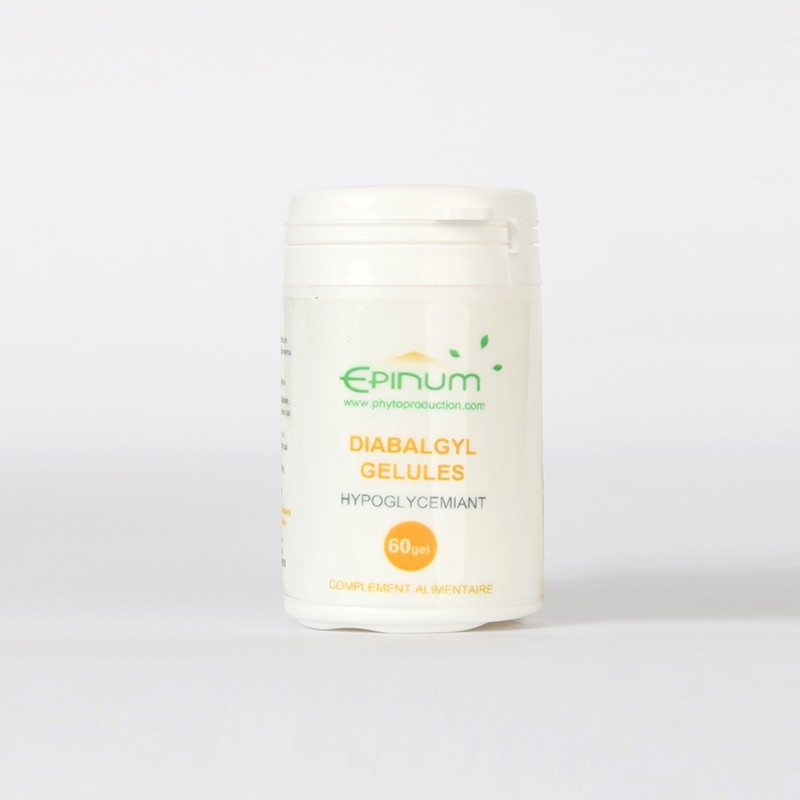  
Diabalgyl capsules
Fight against diabetes
Help your diabetes
A nature product brought by herbal medecines to provide measurable help to diabetes type 2
Only higher hypoglycemic agents are capable of such help..
This long-term action will provide pleasure and security,  with less desires for sweet and / or other temptations and this without feeling frustrated, which is something important.  


Dosage : 3 doses of 3 capsules a day
Conditionnement : 60 capsules of 325mg or pack of 300 capsules
Description
Finally a big help in this problem of diabetes "type 2".
The product is designed, manufactured and made in France
The diet usually consists of lipids, proteins and carbohydrates that provide us  the energy that the body needs. Problems arise on the carbohydrates, so this is what interests us.
Sugars, whether provided by food abuse, alcohol or starch foods, increase blood sugar levels.
The role of the pancreas is to detect the increase of blood sugar and to secrete insulin to transform sugar into glucose and make it digestible in the body cells; in the liver, glucose will be stored and gently processed.
From that moment on, our blood sugar level comes back to normal,
So, we see that the blood sugar can increase and return to a normal level without danger.
For diabetics, the stimulation of insulin secretion is not done, therefore it can not turn sugar into glucose.
To help the diabetic, he will have to take sugar reducers, often as effective as insulin additions.
The root of Arctium  and gymnema support you in the diabetes" type 2" diabetes test: they are superior hypoglycemic agents.
Arctium known to be one of the hypoglycemic plants helps on two levels:
Reducer of intestinal absorption of carbohydrates, depurative and detoxicant very active.
Reducing the desire of sweet  products,  drinks and  foods.
Elimination of the bad assimilation of the sugar in the body by a prompted cleaning of the blood.
The gymnema, recognized reducer of the blood glucose level thus modifies: the secretion of insulin and this for all diabetes, but preferentially for diabetes type 2.

Thanks to these protection, let's talk about the blood sugar reducion according to the epinum process:
The combination of these 2 plants has little effect on the pancreatic insulin secretion, simply by blocking the absorption of sugars in the intestinal phase, it helps hypoglycemic agents..


Diabalgyl, arranges and / or modifies the usual needs in the feeding behavior (checked) by causing  less  desire of certain products of daily consumption.
The actions and results of Arctium and Gymnema remain long-term for balanced long lasting results.
Customer reviews
Reviews about this product

Show attestation
Quand j'ai eu compris qu'il fallait commencer les prises par 2 gélules le soir, ça a baissé mon diabète du jour au lendemain. Bon produit.
Ingrédients
Arctium majus

gymnema sylvestris
Précisions
The Diabalgyl capsule, helping to diabetes "type 2 diabetes", can be taken permanently.
It is a dietary supplement that cannot be used as a subtitute for meal.
Mode d'emploi
3 doses of 3 capsules. the first 2 weeks or switch to the maintenance dose as soon as a result is significant.
The maintenance period: 1 to 3 cap in the morning, 1 to 3 capsules the evening
Don't exceed the daily dose
Keep away from children reach