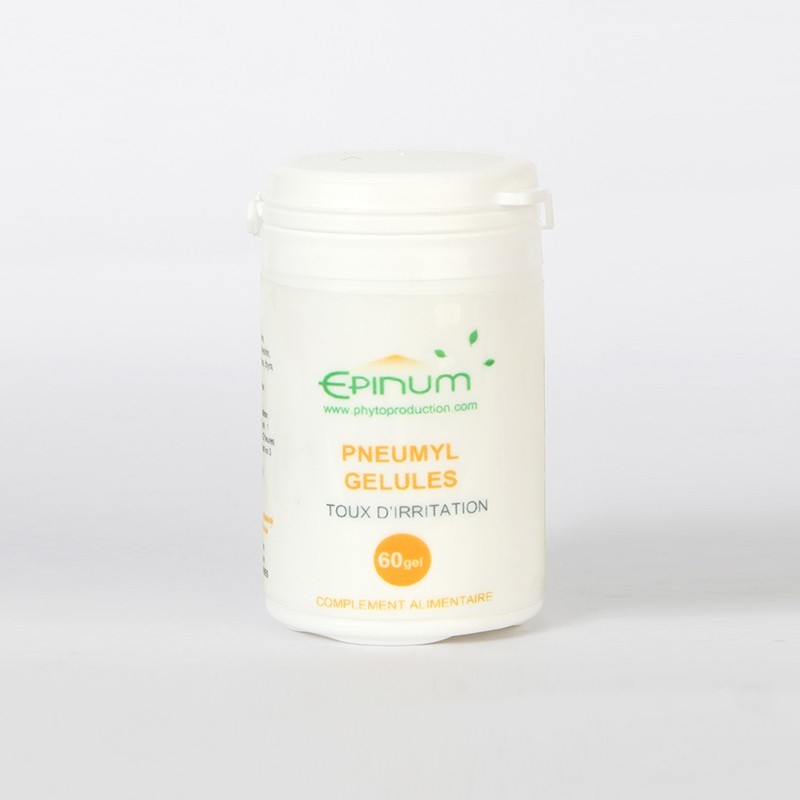  
Pneumyl
against coughs
Fight against coughs
Subsitute for the syrup
Fast and safe, Pneumyl capsules soothe coughs quickly and efficiently.
Safe product from modern herbal medicine plants.
Dosage : 1 to 4 capsules per day
Conditionnement : 30g
Description
We always think of syrup to treat coughs.
Theses plants are the most former and also the most known.
A capsule vs. a teaspoon: the capsule is more effective.
Syrups are not always the best suited solution as they are composed of a high quantity of sugar and sometimes alcohol.
They are not suitable for some people who should control their calories intake due to diabetes or diet,...
To address these concerns, some syrup are now available in capsule. This new shape is a renewal for the cough medicines.
Unlike the syrup, the capsule is composed of a plant cocktail with active ingredients to get a wide range cough medicine.
Capsules don't contain sugar nor alcohol.
Pneumyl is effective and easy to use.
Any family should have it in their pharmacy box just in case.
Customer reviews
Reviews about this product

Show attestation
Ingrédients
Elderberry
Ivy
Malva sylvestris
Eucalyptus globulus
Thyme
Précisions
A great alternative to the syrup against cough.
Don't exceed the daily dose
Keep away from children reach