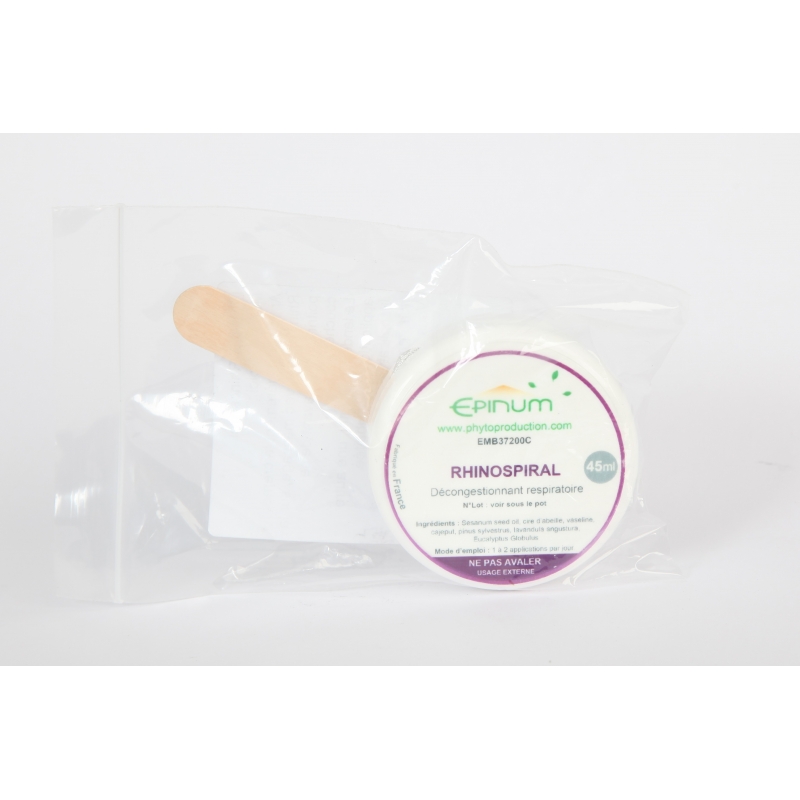  
Rhinospiral
Decongest naturally
Decongest the pulmonary discomfort, by massage on the chest
Effective help against coughs and breathing difficulties;
Rhinospiral cream is designed for elderly and applies to massage on the chest.

The causes of cough can be many, but the common point is the need to get out a solid and / or irritative material: the dry cough
Dosage : 1 to 2 applications per day
Conditionnement : 60ML
Description
Coughs or lung infections weaken elderly people who therefore need a quick, soothing, and safe product.
Product designed,   manufactured and made in France.
Rhinospiral penetrates easily and quickly under the skin, it calms the burns caused by coughing.
It is used as a decongestant; protects against viruses and bacteria in the air.
A cream for elderly who know from their experience this need to be relieved, actively, by their different pathologies that they experienced
This cream with its antalgic virtues, gives a tonicity that only those who feel better are able to live.
Use in massage on the thorax, or with a touch of cream in the nostrils, or on the temples. Soothing and anti spasmodic for coughing.

Thanks to the refreshing Eucalyptus, known for its virtues on the respiratory system, expectorant, ideal for colds, sinusitis and bronchitis.
With the major antiviral lavendula, strengthener for nervous and physical fatigues.
The excellent Pinus sylvestris, a powerful pulmonary antiseptic that clears the bronchi and tones the body.
Finally, the cajeput decongestant of respiratory infections.

Energetic and powerful product with short and sure effect.

Protects against viruses and bacteria that are in the air.
Customer reviews
Reviews about this product

Show attestation
Ingrédients
Sesamum seed oil
beeswax
vaseline
cajeput
pinus sylvestrus
lavandula angustura
eucalyptus Globulus
Précisions
Rhinospiral Cream is a decongestant applied on the chest by massage
Must not use as a meal replacement.
Mode d'emploi
Massage 1 to 2 times per day, for 4 to 5 days
Don't exceed the daily dose
Keep away from children reach