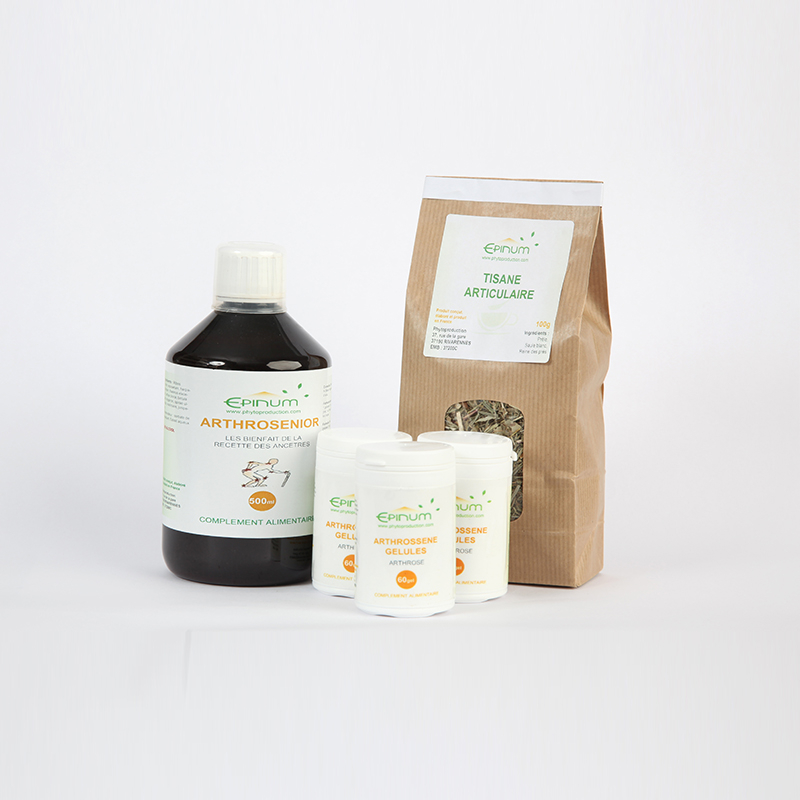  
Package Arthritis Contractures
Our best products againsts contractures & arthritis
Comfort provided by Arthrosenior+ Epissene capsules will ensure the success of your anti-inflammatory treatment and at the evening, relax with the herbal tea.
For the comfort of arthritis :
1 Joint Herbal tea
2 Epissene capsules
2 Arthrosenior
A package at a very special price.
Dosage :
Description
This package is composed of:

Joint Herbal tea : a plant selection with anti-inflammatory and remineralizing property provides you the necessary muscle comfort.

Epissene capsules : back contractions and torticollis : Epissene capsules - osteoarthritis, arthritis, contractions, tendonitis, effective thanks to its soothing property on muscle troubles.

Arthrosenior: for osteoarthritis and arthritis thanks to the camomile, fleabane and meadowsweet. Arthrosis of joints (hands, fingers, knees): a benefit against osteoarthritis and serious arthritis.

For this package : comfort is ensured by 2 bottles of arthrosenior+2 pill boxes of Epissene capsules+ 1 herbal tea for the delicate and delicious moment it provides.

The purpose of this package is to reduce pain in the hands (most often) that is painful due to inflammations to uric acide or emerging osteoarthitis. These joint inflammations stop if you follow the good treatment.

Special price, free delivery.
Don't exceed the daily dose
Keep away from children reach