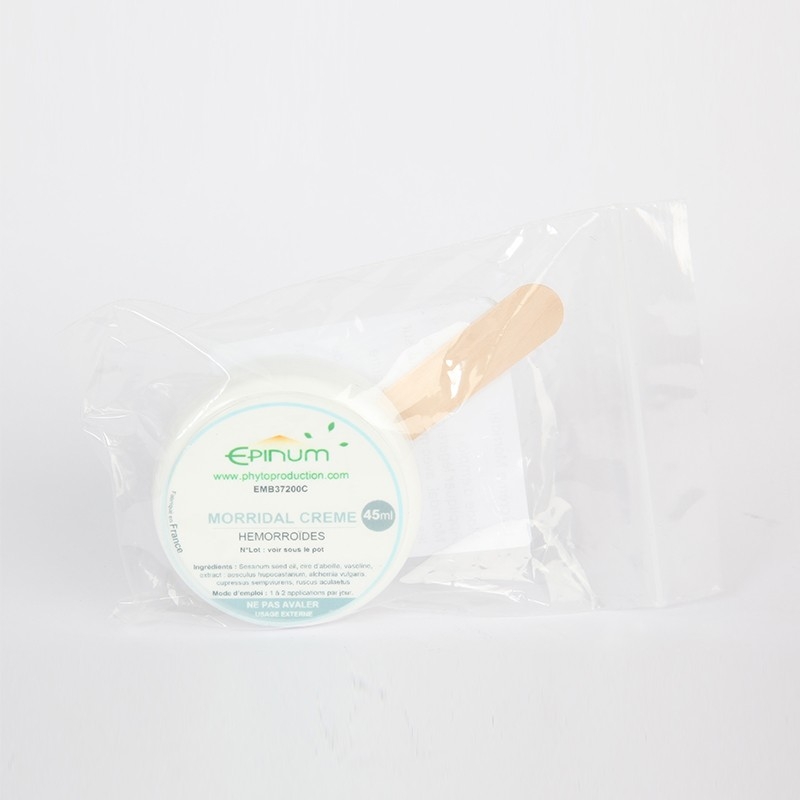  
Morridal cream
Hemorrhoidal cream
Hemorrhoidal cream
Hemorrhoidal cream immediately reduces pain.
Quickly reduces the size of hemorrhoids for men or women.
Suitable for pregnancy.
Also available in herbal tea and capsules.
Dosage : 1 to 2 applications per day
Conditionnement : 60g
Description
Cream for hemorrhoids
Morridal ensures a faster healing of hemorrhoids.
Morridal cream consists of great venous tonic that serve for the rapid healing and immediate calm of the hemorrhoidal system.
It is suitable for pregnant women.
1 Application per day or as soon as pain is noted. Proceed by applying 1 dab of cream in the right place, no need to massage
The pain will disappear almost immediately.
Morridal cream can be kept in the refrigerator.
Associated with small holly, horse chestnut, alchemilla and cypress gives it healing and venotonic virtues, the Morridal cream helps to relieve and effectively treat hemorrhoids.
Morridal cream also exists in Morridal herbal tea or capsules with Hémol.
Hemorrhoids are veins surrounding the anal region; if they are abused they react strongly and can be very painful whether they are external or not.
The typical symptoms of a hemorrhoidal crisis are itching, a burning sensation, and swelling of the anus with or without bleeding during defecation.
Some causes can generate hemorrhoids:
Chronic constipation, a very spicy diet, lifting loads too heavy for you, alcohol.
For pregnant women, this problem also exists because they are particularly sensitive to venous disorders.
With 1 to 3 applications per day, you will experience almost immediate relief with the active ingredients of Morridal Cream.
Always try a small area of ​​skin before treating widely.
Do not exceed the recommended daily dose.
Products must be kept out of the reach of children
Ingrédients
Sesam oil
Vaseline
Beeswax
Horse chestnut extract
Alchemila extract
Ruscus extract
Cypress extract.
Précisions
With 1 to 2 applications per day during 2 to 3 days you will feel relieved thanks to the active ingredients of Moriidal cream.
Don't exceed the daily dose
Keep away from children reach