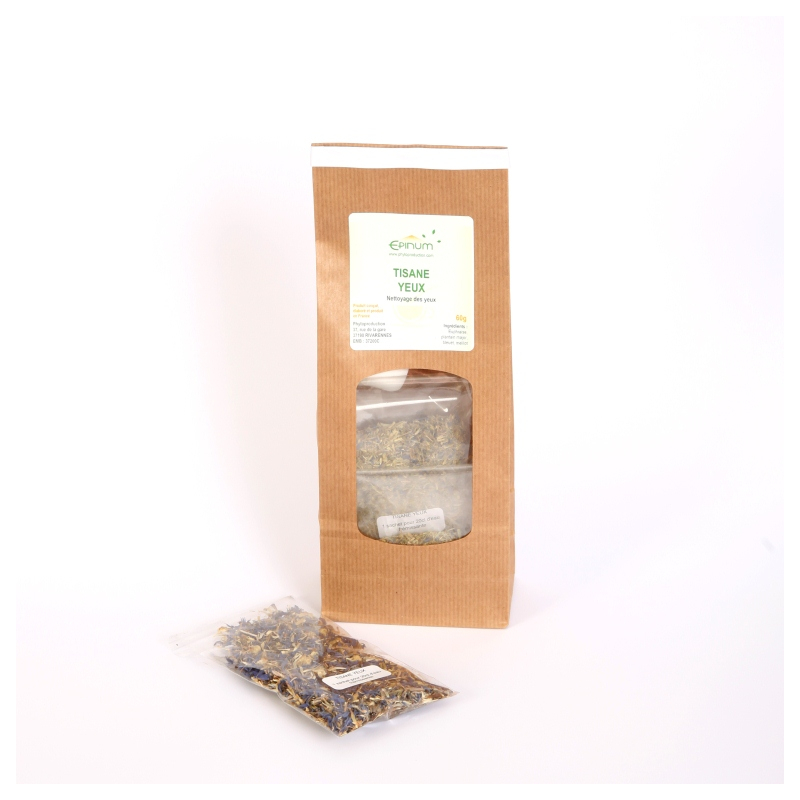  
Eyes herbal tea
Cleaning occular system
Clean your eyes with safe and efficient active ingredients.
Cleaning the eyelids is greatly facilitated and safer with Eyes herb tea.
This plant selection ensures a precious help and efficient cleaning.
Dosage : 1 application at the evening or the morning
Conditionnement : 60g
Description
Eyelids and eyelashes are supposed to be independant, nevertheless, impurity may penetrates.
Eyelids of watery eyes are loaded by impurities and should be cleaned.
Cleaning could be done in the morning and/or at the evening before sleep.
The selected plants have a cleansing action, safe and efficient so that your eye will be quickly clean and active; this natural action of herbal medicine is easy.
There is a eyewasher inside each tea bag.
Just boil water and put the eyewasher inside for one minute; then take it off and let the tea infused inside the boiled water.
Everyone has his dosage, that's why it is not available in pounch packs, nevertheless, be careful of overdose: 1/2 teaspoon per cup is a good dose.
The plants inside the tea have been reduced in small parts to make it easier to filter.
Ingrédients
Euphraise
Sweet Clover 
plantain major
Blueberry
Précisions
Eyes herb tea quickly addresses small occular problems.
Mode d'emploi
Put the teain a boiled water. Let infuse; then let it cool and filter. Can be stored covered in the refrigerator for a day.

Use the supplied eyewasher that will be cleaned and rinsed after each use.
Don't exceed the daily dose
Keep away from children reach