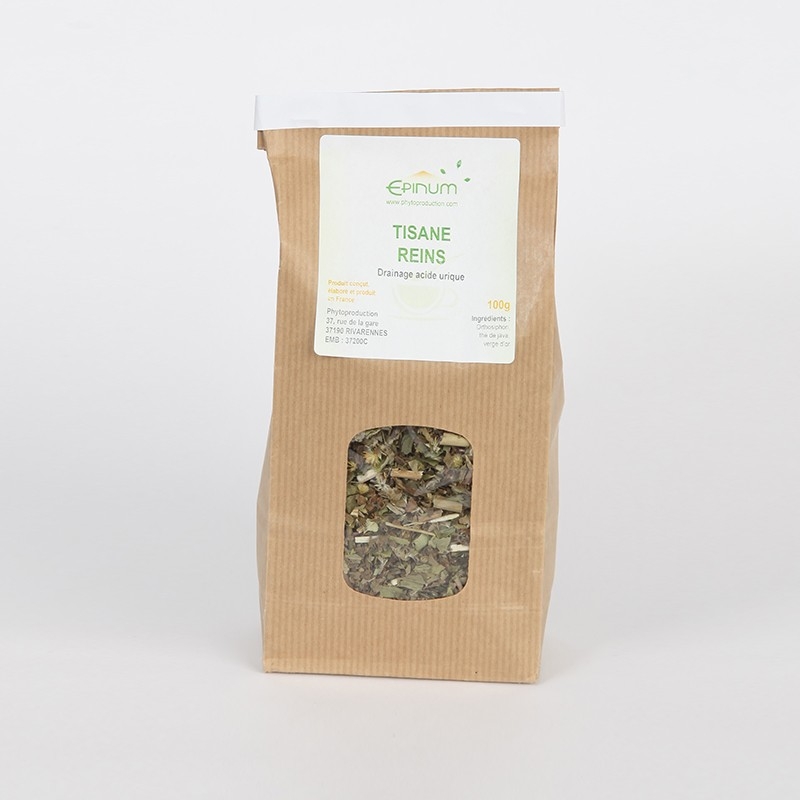  
Herbal Tea for kidney
Against uric acid
Herbal teal for uric acid problems and acute gout
Cleans the kidneys of the lithiases and becomes the ally of the "gouty ".
By eliminating the uric acid, the herbal tea for the kidneys makes it possible to combine the useful and the pleasant; using one bag is recommended for one cure.
Easy to prepare and consume.


Dosage : 1 pinch per cup
Conditionnement : Kraft bag of 100 g
Description
An herbal tea to cleanse the kidneys and thus avoid the gout attack.
The kidneys reaching saturation, cause the sending of a discharge of lithiases in the blood which then come in the joings which inflamed them; and prepare an acute  gout. Herbal tea or capsules, the kidneys will react favorably to cleansing.
Product designed, manufactured and made in France.
The actives of the herbal tea, orthosiphon-solidago virgaurea, make sure to evacuate by draining these dust (lithiases), as soon as they form .

A tea for those who suffer from repetitive gout thanks to the excellent drainage of the kidneys, eliminating uric acid with choleretic  and diuretic action.

Drainage is a specific action of herbal medicine and facilitates kidney elimination.

It will bring you a comfort effect in a few days, allowing you to find relaxation, improvement and spontaneity.

All our herbal teas are good to taste.
Ingrédients
Java tea
Orthosiphon
Solidago vigaurea
Précisions
Herbal tea helps those who suffer from gout,  helping to eliminate uric acid.
This is a dietary supplement and should not be used as a meal replacement.
Mode d'emploi
Don't exceed the daily dose
Keep away from children reach