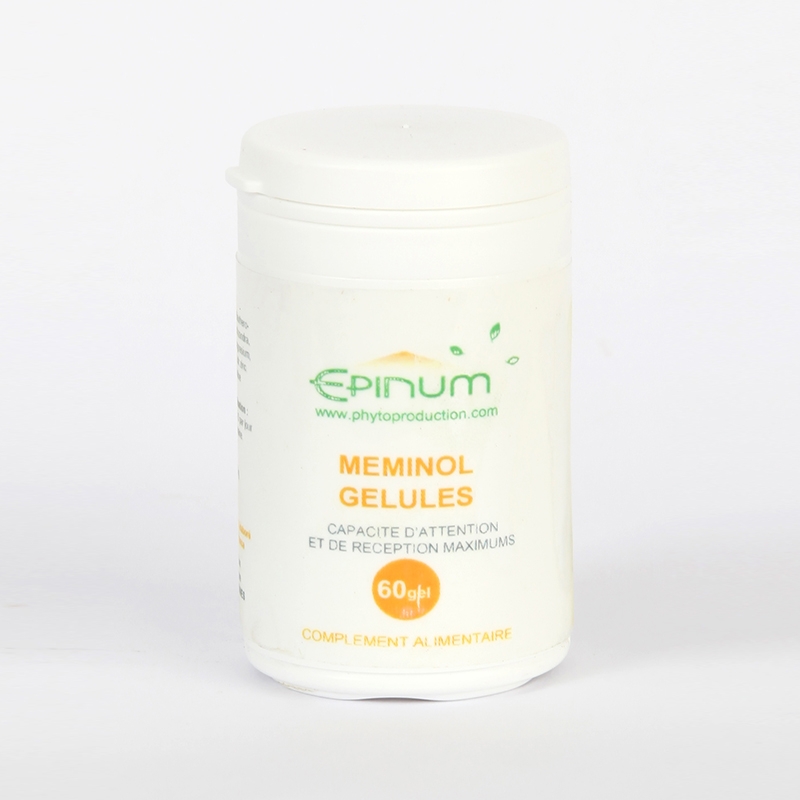  
Meminol Capsules
Memory and concentration troubles?
Memory troubles result from a permanent lack of attention or temporary tiredness, stress or aging.
Feed your neuronal system.
Description
You will find concentration and memory : Meminol capsules - Epinum
Activator of neuron and cellular body.
Product designed and manufactured in France.
Meminol will slowly provide you self-confidence and concentration due to the minerals, trace elements and vitamins inside.
Neuronal system talks an electric-chimic language, thus it requires a cellular body activator in case of weakness.
Since the memory is not a muscle, its capacity is linked with the speed of receipt, concentration and classifying information. Sadly, it is proved that goodwill is not enough to gain the necessary attention skills. Maybe, it requires some methods; anyway, we have to feed the neural system to speed the brain electric information .
To do so, take during 1 to 2 weeks 2 to 4 capsules/day to improve concentration and speed with which orders transmitted to the brain are excecuted.
The zinc, magnesium and potassium strenghten it and maca and Eleutherococcus help to speed the moves.
During sleep, the cells regenerate; a restorative rest is always expected.
Take Meminol 8 to 10 days "before" any period of mental effort, you will feel relaxed and more resistant to effort.
Zinc is a strong protector of the brain; it helps to keep the maximum skills, always associated with magnesium and potassium.
This supplement is efficient for both women and men and provides a noticable good effect on resistance, humor, anxiety.
Precisions : Meminol capsules is the product providing the necessary concentration to get a good memory. Precious during exams and everyday life. Treatment can be quasi permanent.
Ingredients :
Eleutherococcus, maca, rhodiola, schizandra, cit zinc, chl of magnesium, chl of potassium.
Not exceed the recommended daily dose.
Products should be stored out of the reach of children.
It is a dietary supplement that cannot be used as a subtitute for meal.
Don't exceed the daily dose
Keep away from children reach