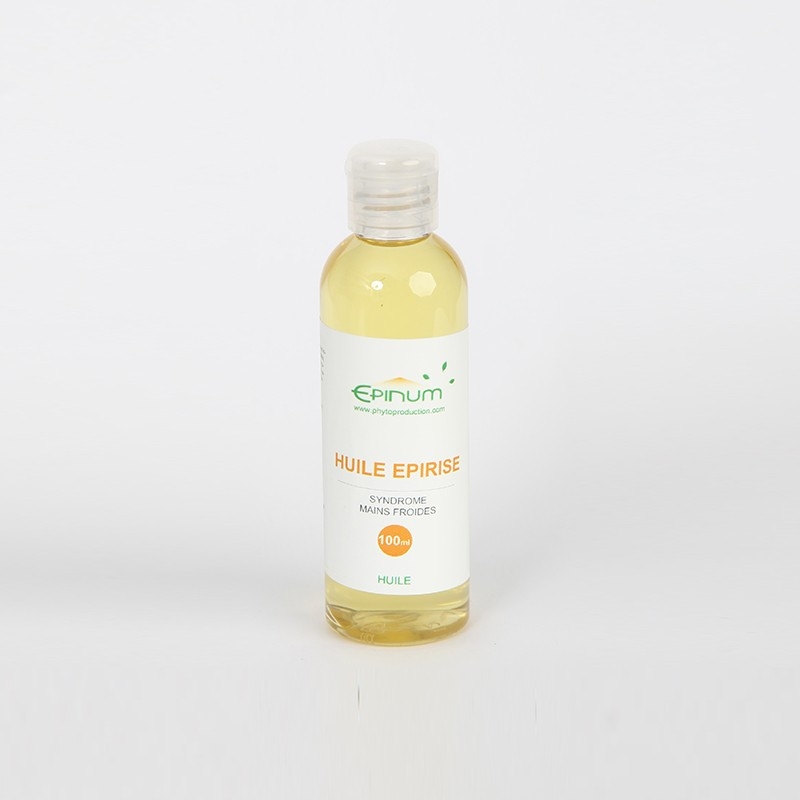  
Epirise oil
Cold hands and feet Cold hands and feet problem is usual for the seniors. It is often associated with Raynaud's disease and poorly understood by the healthy people. Of course, the difficulty comes from the subject immobility, but it is not only that, the blood circulation may need to be excited. Enjoy the benefits of massages with Epirise oil
Description
Raynaud's disease - A natural treatment: Epirise Oil
An herbal treatment to fight Raynaud's disease.
Product designed, developed and manufactured in France.
Raynaud's disease is a delicate and crippling problem; fortunately, active ingredients in this organic oil are there to help.
This may also be related to cold limbs, such as the vagus nerve. It is a parasympathetic phenomenon that has been triggered spasmodically.
In addition to the treatment of cold extremities, it is necessary to see the other probable causes. It may also be gastric trouble and temporary or chronic constipation. Many people have seen their problem resolved by the normal transit (laxyl capsules can help you).
The liver dysregulation is also very often among the reasons. Pasty mouth, nausea and headache show that it must be drained (Hécuryl capsules may help you).
Association of pinus sylvestris and pinus palustris provide relaxation and warming of sensitive areas.
The selected active ingredients contribute to a better blood circulation that induces the warming process. Cupressus is an anti-spasmodic and a venous decongestant; it ensures a local energy, then a gentle and effective circulation. That allows you to practice an activity, or spend time with tranquility.
Always try a small area of ​​skin before treating widely.
Do not exceed the recommended daily dose.
Products must be out of reach of children.
Don't exceed the daily dose
Keep away from children reach