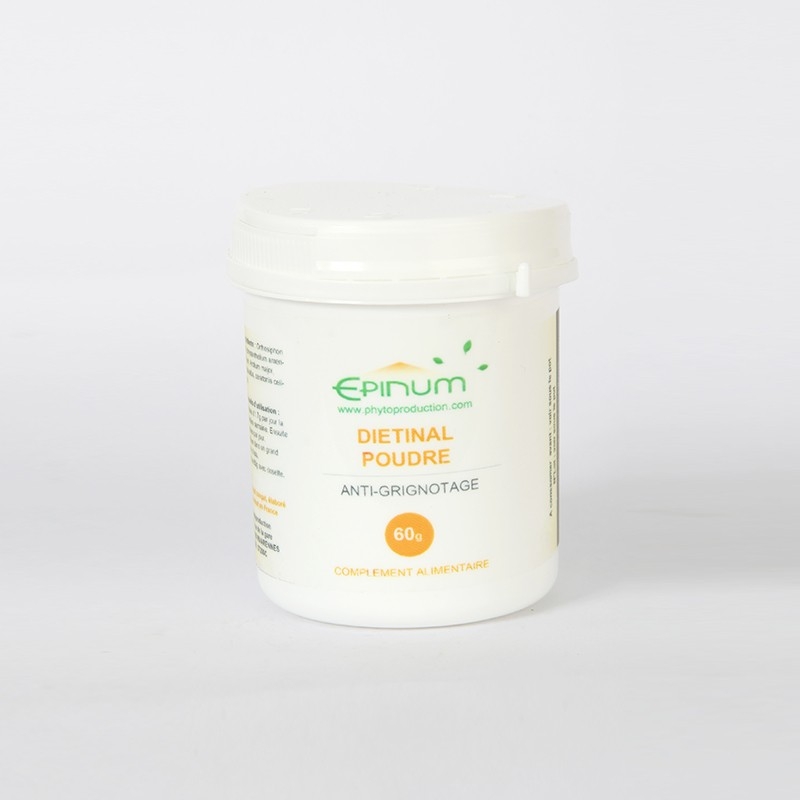  
Diétinal Powder
Fight against snacking
THE SNACKING IS OVER
The small whips hunger  of 11  or 16 hours will be eliminated with the help of Diétinal.
Dietary is not an ordinary hunger cut, or even less a diet or a meal replacement, it's better than that: active ingredients that fill your stomach and serve as diuretics.
You release your water, you no longer have small holes and you feel better.


Dosage : 1 to 3 doses per day
Conditionnement : Box of 60 g
Description
The whips of hunger are over
Replaced by Diétinal
Product designed, manufactured and made in France
A regained dietary  without effort, with the pleasure of being rid of its weaknesses.
Let's explain the diets :
Diet diets are based on changing quantities.
When you feel the need to be on diet, it's just your own
assessment to establish that one should seek to reduce its weight, or that one need to be careful,
To be successful, the diet must incorporate an approach of behavior with changes in eating habits and an increase in physical activity equivalent to 3 hours of walking or exercises per week.
Let's explain Dietinal :
Dietary has nothing to do with a diet, it's not an ordinary hunger cut. It's better than that, a real weapon against snacking.
It prevents the desire for sweetness, by providing a reduction of carbohydrates. It also provides a disturbance of the usual needs. It lowers triglycerides and drains fatty toxins,
it is also a very good diuretic (elimination of water).
Finally, after a few weeks, we realize that we do not want to snack, because the need usually desired is no longer sought.

Reminder of the virtues of Dietary powder: Anti-oedematous, Antioxidant activity, Hypolipidemic, Diuretic, Hypolypidemic, etc ..
In a nutshell, you fight against the need of sweet without effort.
Dietary has indeed, nothing to do with a diet. It replaces the possible hunger of the morning or that of the time of the snack.


1 dose with a large glass of water.
Ingrédients
Orthosiphon
Chrysanthellum
Arctium major
Beta alba
ceratonia siliqua.
Précisions
Reduces appetite with taking Dietinal in a glass of water.
Products must be kept out of the reach of children.
Mode d'emploi
Try to drink a large glass of water half an hour before taking the powder, the same thing when taking your dose.

The elimination of toxins is fast, from the first days, the urine will become clearer; the good aspects of a fitness is progressing and the desired goal soon reached.
This remains the guarantor of an effective and safe product.

The first week, 2 doses in the morning, 2 at 11  and 2  at 16-17,  always taken with a large glass of water.

The maintenance treatment will be 1 dose at 11 and 1 to 2 in the afternoon if necessary.

One daily dose can be added if necessary, without any side effect,

Don't exceed the daily dose
Keep away from children reach