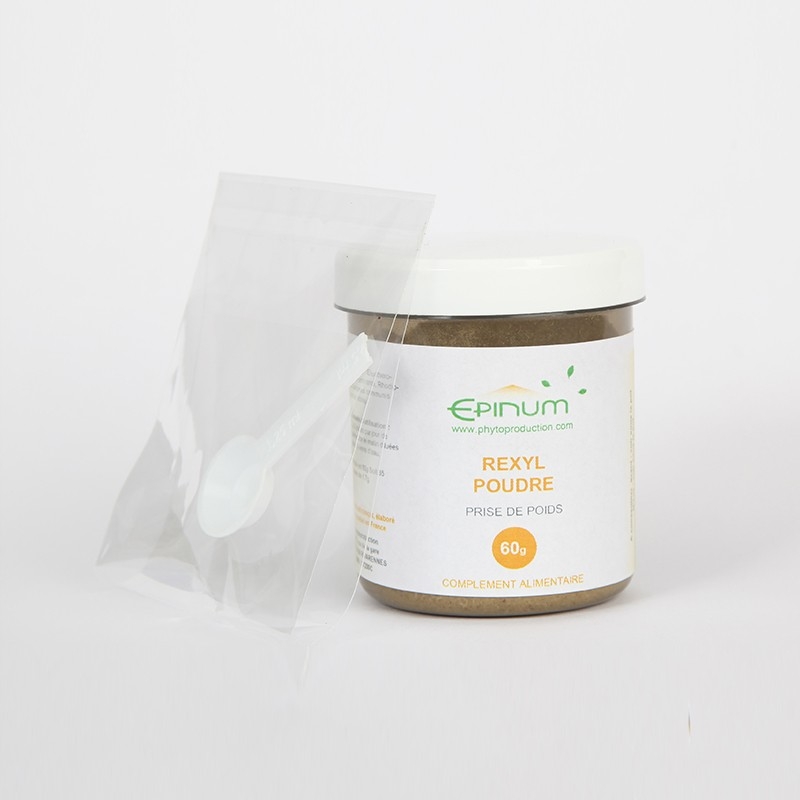  
Rexyl powder
Fight against thinness
To treat thinness problems and even extreme thinness due to lack of appetite.
Thinness, also due to disease that requires high amount of energy to the body and lead to weight loss.
Rexyl will help you.
Dosage : 2, 3 doses per day
Conditionnement : Pot of 60g with a pod
Description
Don't be thin anymore, gain weight.
Product designed and manufactured in France.
These thinness problems might be caused by two facts:
- Either we do not feel any more appetite and we do not eat anymore or not enough
- Either we eat but we do not gain weight
In these two cases, Rexyl will help you to gain height.
Rexyl acts on chronic or provoked extreme thinness and enables to trigger a regular appetite physiologic and psychologically stable due to its well dosed active ingredients such as fenugreek and eleutherococcus, which leads to a weight gain within 6 months. Result is usually obvious after 3 weeks of treatment.
Rexyl is also suitable to those who are willing to eat but cannot gain weight, they may get well shaped thanks to the active ingredients of Rexyl powder : eleutherococcus, maca, rhodiola and schizandra to stimulate the body.
Synergy of the plants inside Rexyl powder and appropriate dose makes it an unic and safe product; you may take 100 to 200g per month and you will keep it : count and see in a trimestrial basis.
After a treatment of 2 months, beging with a daily diet with high-calory food and starch, potatoes, beans, pasta tasty dishes, meat, fish, that should represent 300 to 500 kcal of your usual feed ration per day.
Preferentially, the absorption of Rexyl will be more comfortable mixed with honey or jam or other sweetener (softener) pasty.
TIPS
Generally, the extremely thin people who change refuse their new weight and/or their new shape ; it is better to practice soft sport (swimming, slow walk, small movements) in order to enable muscles to work so that they regain density.
Do not exceed the recommended daily dose.
Products must be kept out of the reach of children.
This is a dietary supplement and should not be used as a meal replacement.
Customer reviews
Reviews about this product

Show attestation
Excellent produit, j'ai pris 7kg cette année, je continue.

Dur à avaler ça n'a pas très bon goût mais bon c'est pour la bonne cause j'attends les 3 premier mois pour m'apercevoir de l'efficacité

On est en attente des résultats mais déjà il mange un peu plus
Ingrédients
Glutamine
L-Arginine
Créatine
Gingembre
Précisions
Rexyl powder helps  people who want to gain weight ; fast result, weight gain is visible after 3 weeks to 2 months of treatment.

It is a dietary supplement that cannot be used as a subtitute for meal.
Mode d'emploi
The powder should be diluated in a half glass of water. The pot is composed of 35 doses of 1.7g (equivalent to 5 capsules) 2 to 3 doses per day.
Treatment of 6 months to be renewed.
Don't exceed the daily dose
Keep away from children reach