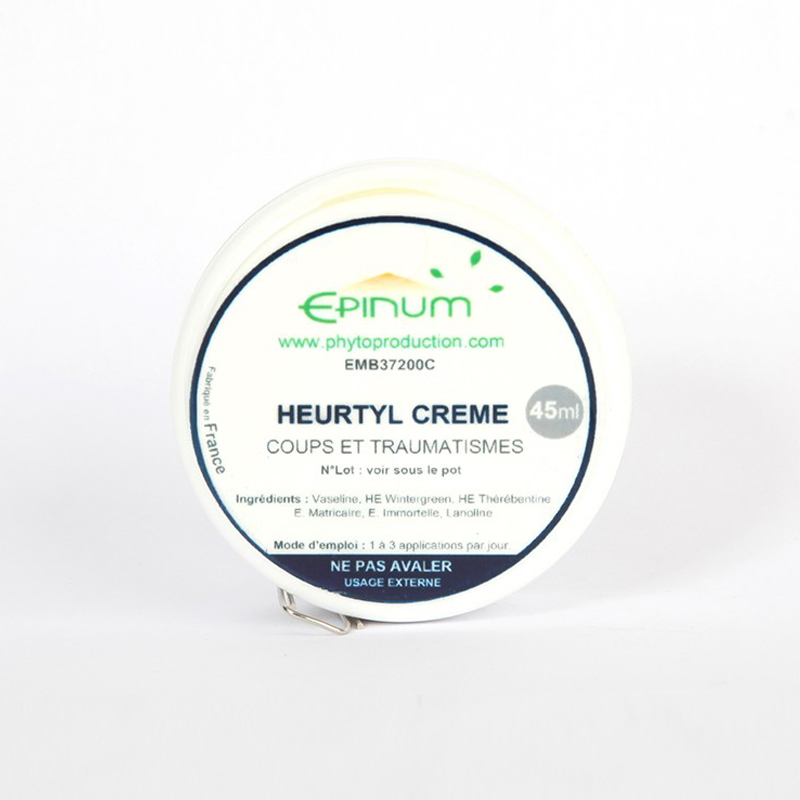  
HEURTYL CREAM
Blows and trauma
Cream against the bruises. Repair of blows and hematomas due to clashes, bumps, knocks and falls against a hard and firm support.
It facilitates the ability to resorb hematomas of older people whose skin becomes thinner, but also acts for relief against old blows of a few hours. The relief is almost immediate; the resorbed hematoma does not spread by limiting the unpleasant blue color.
Description
Cream for bruising
Heurtyl is a restorative cream for hitting and bruising or bumping skin resulting from falls against a hard support.
With its powerful assets, it calms and resorbs the bruises preferably fresh, but also acts for the blows of a few hours.
All superficial and / or deep shocks and bruises are helped in their resorption by its components, avoiding the spread of blood from small vessels, thus facilitating the spreading of the bruise.
Those who are on antihypertensive treatments cannot bump without having an almost immediate blue-black mark. An application of Heurtyl cream helps to reduce and avoid the enlargement of this small hematoma.
Heurtyl cream restores elasticity to the skin, repairing bruises is done very quickly by calming the pain.
hecuryl does not contain arnica, but more modern and faster active ingredients, the balance between the feverfew and wintergreen, ensured by the synergy of immortelle make it a safe, effective and formally powerful product.
Always try a small area of ​​skin before treating widely.
Do not exceed the recommended daily dose.
Products must be kept out of the reach of children.
Don't exceed the daily dose
Keep away from children reach