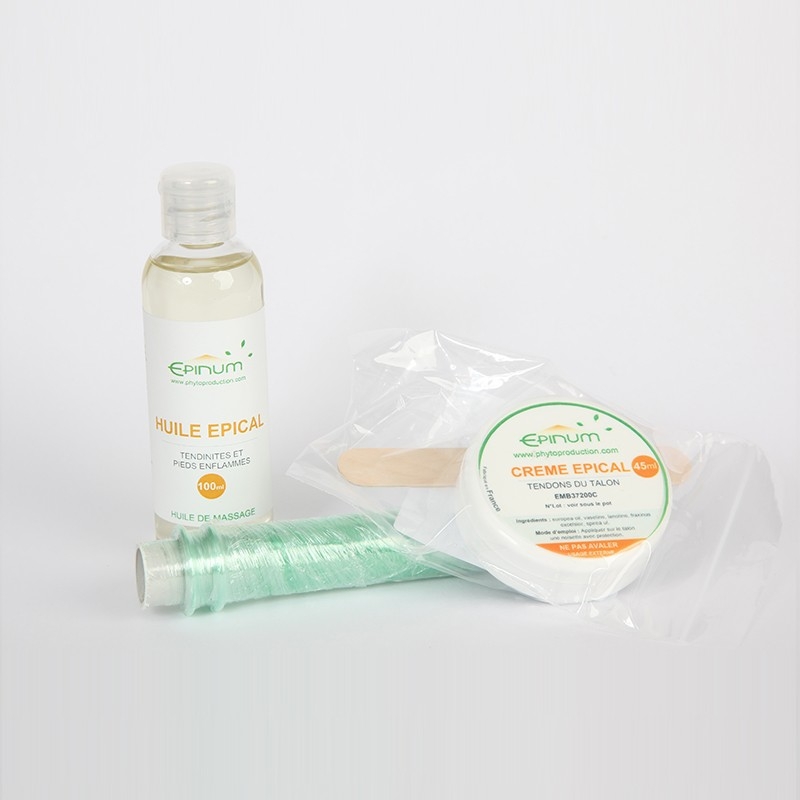  
Epical system
Trio of products to treet heel spur
Epical system for heel spur
the Epical set is composed of three products from herbal medicine :
Epical cream for the tendonitis of the heel,
Supra 100 to prevent the cream from dying out,
Epical oil to massage the foot.
Dosage : 1 application per day
Conditionnement : Set of 3 products
Description
The Epical systeme is composed of three products :
The cream is for the evening : before sleep, put on a compress a small amount of 3 g of Epical cream with the spatula provided, on the heel : apply without massage and wrap with a bandage
Products designed and manufactured in France.
Supra100 to insure a good bandage
Cut in a length of 10 to 14 cm to maintain the compress (not compulsory) and wrap the heel. see the video. It is a technically safe product. It prevents from stains on the bedsheet and it especially prevent the cream from dying out. A cut old sock can add to the protection.
Epical oil to massage your feet the next morning, this action prevents from tendonitis of the foot later on; (don't try to remove the stains from the cream) and on the clean feet and still a little damp, apply the Epical oil in a light layer, it will loosen up feet and heel .
The three products together, will act efficiently and rationally on the heel spur

Always test a bit of the product before using it all over.

Not exceed the recommended daily dose.
Products should be stored out of the reach of children.
Don't exceed the daily dose
Keep away from children reach